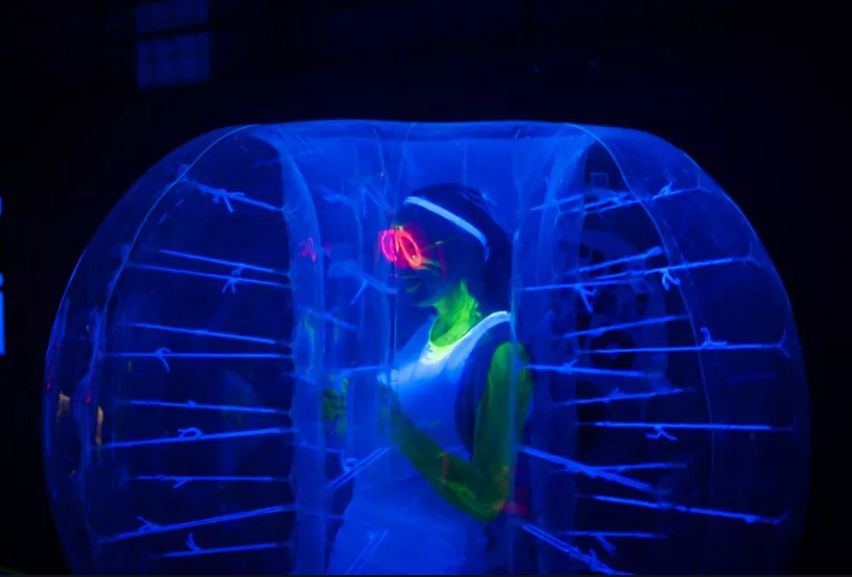 Neon Bubble Football in Budapest for crazy dudes. Do you want to try a legendary stag do activity? Of course you want! Try our brand-new bubble football actvity and destroy the stag gently in the dark!
★ CLICK HERE FOR OTHER ACTIVITIES ★
Neon Bubble Fun in Budapest includes:
Pretty tour guide
Transfer to the venue and back
Professional equipment - neon zorbs
Referee
1 round of Beer
Bubble football Stag Do Activity in Budapest
Do you know Bubble Football? This game originating from Norway, is very popular in Europe. Since 2013, it has developed in playgrounds in Budapest. It is a sporty stag do activity accessible to all and easy to understand. Let's discover together the rules of this new original game that revisits football, but not only...
The game's rules
The main objective of football in a bubble is to score the maximum number of goals during a given period. Generally, a game consists of 3 periods of 10 minutes. Two teams made up of 3 to 11 players oppose each other on a field.
Bubble Football in Budapest with your friends - guaranteed laughs
A game of Bubble Football with friends, would you like it?
The only notable difference with a classic football game is that the participants can compete by multiplying the "bumps" or bubble shots during which they hit each other. The players then fall to the ground and must get up as quickly as possible. This particular rule allows opponents to take advantage and try to score.
The bubbles are, of course, very cumbersome and they can destabilize all the players in their race! This activity, much sportier than a traditional game of football, is still very fun and laughter is guaranteed!
To start the game, the referee places the ball in the center of the field. The two teams first position themselves in their camp. At the referee's whistle, they can run to take possession of the ball. This highlight of the game often leads to many falls! Attention, players must position themselves more than 3 meters from the ball. To play Bubble Football in Budapest, you need some basic equipment. First, each player must be equipped with an inflatable bubble.
Colorful and neon models help differentiate teams during the game. For maximum fun, you can also opt for a Foot Light bubble that lights up with each contact with the opponent! There are bubble models suitable for children and adults.
Then, it takes two cages to score the goals. If you are playing on a small, fully-equipped field, it is possible to take the existing goals, but if this is not the case, the inflatable goals can be very practical. Light, nomadic, they can be moved easily for improvised football games indoors and outdoors. To delimit the playing area, you can opt for an inflatable football pitch with inflatable walls and goal cages included.
Bubble Football in Budapest is practiced on a suitable ground. Outside, you can hold a party on synthetic or natural grass. If you decide to play matches indoors, the floor must be smooth: resin, parquet or linoleum are highly recommended coverings. These different materials allow players not to slip and to avoid injury.
A game cannot be played without a ball! You can therefore choose a classic football- ball or choose an inflatable ball. Both options allow you to play a great game of football in a bubble.
The teams
On the field, two teams must face against each other. Each of them is made up of several players and a goalkeeper. The matches can confront teams of 3 to 11 players.
Duration of a Bubble football match in Budapest
A normal Bubble Football match lasts 3 x 10 minutes. At the end of each period, the players change sides. However, if you are organizing a tournament or have a short time, you can completely reduce the time of the game to two sessions of 7 minutes each.
In case of a tie, you can add an extra 5 minutes. After this time, the match ends in penalties. If it's a friendly match, no need to do it, the players are there to have fun!
The flying goal variant
For a game with only 3 players in each team, the goal can be flying. He is therefore authorized to evolve on the field like his teammates.
Offenses and penalties
Even if Bubble Foot is a game allowing contact, you have to follow some rules to avoid any danger. During the game, stag do team members are not allowed to run into an opponent who is already down or who is trying to get up. It is also forbidden to make tackles or make a collision in the back. Opponents should always destabilize face-to-face or sideways.
When a fault is made, the referee must blow his whistle. The ball is then awarded to the opposing team. Otherwise, the player who committed the foul must leave the field for one minute. The first sanction is preferable, because Bubble Football remains a leisure game!
Safety in Bubble Football
A football bubble can accommodate only one person. Sizes vary depending on the child or adult model. Each Bubble Foot is made from TPU, a material that guarantees optimal safety for players and is CE compliant. The bubbles are inflated using an electric pump. Harnesses are positioned inside each bubble so that the player is well maintained during the game.
What you must remember :
Simple and accessible to all, Bubble Football in Budapest is the new trendy sport dedicated to football enthusiasts. Whether it's amateur footballers or more experienced players, kicking the bubble in a giant inflatable bubble is quite technical and will trigger multiple falls and laughter in series.
The Bubble Football is the ideal accessory to energize a sports attraction with ease: the rules of the game are easy to deploy and the games are played in complete safety.
Don't forget to ask our Stag Do specialist before booking this amazing activity!