Nightlife Budapest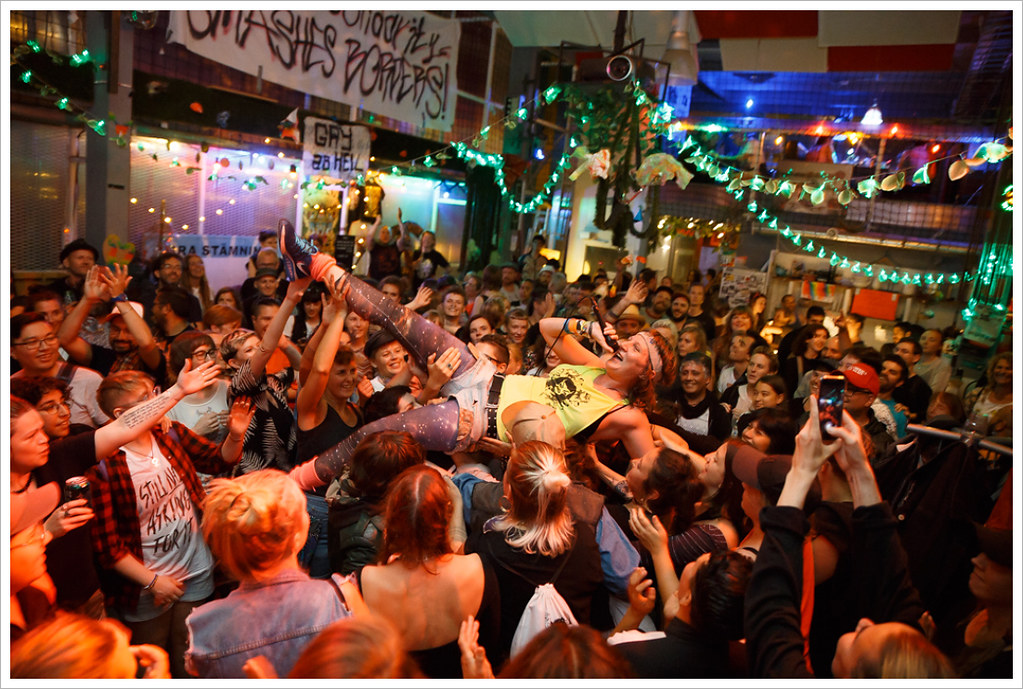 Where are the best places to go out in Budapest?
Budapest nightlife with the most popular ruin bars in the Hungarian capital and
CLICK HERE FOR LEGENDARY ACTIVITIES
Real unique venues in Budapest are the ruin bars, which have been located in the party districts of Budapest since the early 2000s and have been one of the hippest locations in the never sleeping city day and night ever since.
They can be found mostly in abandoned buildings, with inner courtyards, ususally even over several floors. Each ruin pub or nightclub has its own unique atmosphere with a musical ambience. Some are decorated with old objects from the 70's, while others are more artistically designed. However, all impress with their architecture and decoration. You can have a drink and even attend concerts, film screenings and dance to the different styles of music in some ruin bars.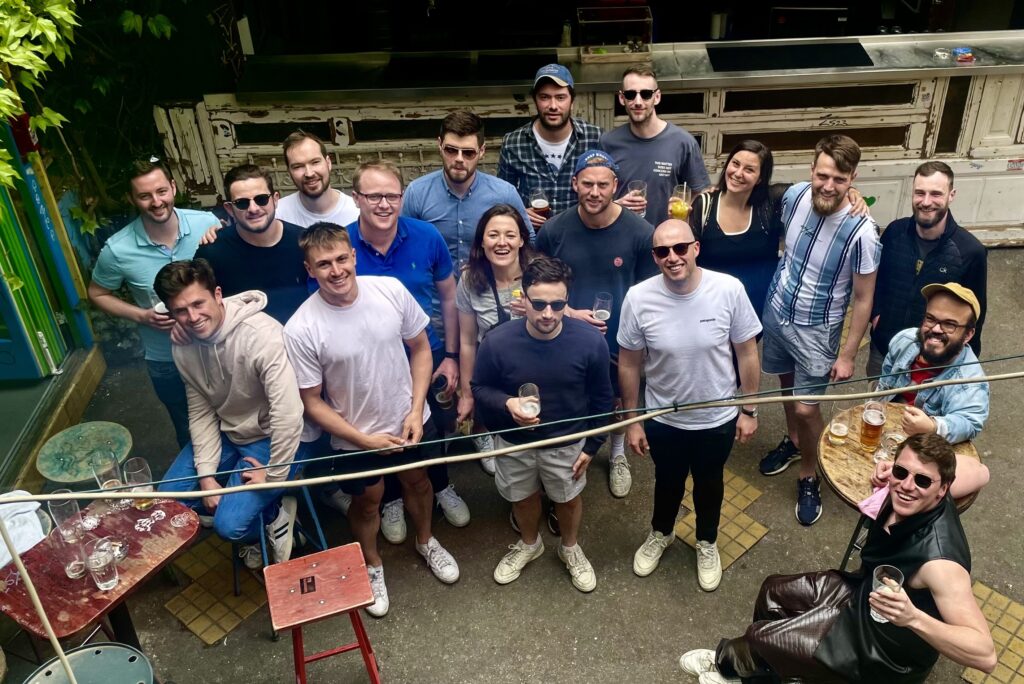 The majority of the ruin bars are located in the same district of downtown Budapest, the Jewish quarter in the 7th district. So it's quite easy to spot them all on foot. From Thursday to Saturday there can be long queues after 9 p.m.
Nightlife Budapest: Here is our pick of the best ruin pubs and nightclubs of Budapest!
SZIMPLA KERT – the legendary ruin bar in Budapest
Szimpla Kert was the first ruin bar in Budapest, opening in 2002 in a historic building that once housed apartments and a factory. Today it is a popular place with a unique underground atmosphere, concerts and outdoor film screenings. We explored room after room, each more surprising than the last. There is no dance floor, but the spacious inner courtyard is quickly converted into one after 11 p.m.
The Szimpla Kert can also be visited during the quieter part of the day, there is even a farmer's market on Sundays from 09:00 – 14:00 (video at this link).
Address: Szimpla Kert, Kazinczy u. 14. VII. District, Pest – Website
Opening times: Monday – Thursday: 12:00 – 04:00, Friday and Saturday: 10:00 – 04:00, Sunday: 09:00 – 05:00. Admission free.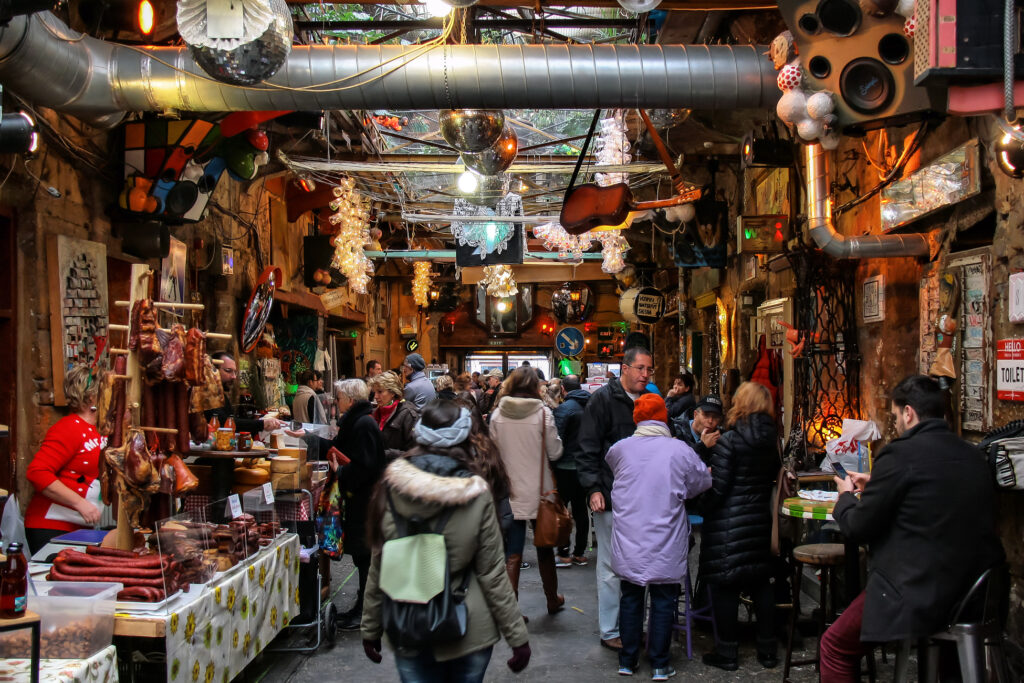 INSTANT / FOGAS the ULTIMATE one ruin nightclub of Budapest
Instant and Fogas, two of Budapest's most legendary ruin bars, have teamed up on Akácfa Street. They form the largest complex in the city: 15 bars, 8 dance floors spread over several floors, including the basement!
Starting on Thursday evening, you will be greeted by an exciting atmosphere (longer queues from 11:00 p.m. must be expected).
Address: Instant / Fogas, 49-51 Akácfa street, 7th district, – Website
Opening hours: daily 4:00 p.m. – 6:00 a.m. Admission free.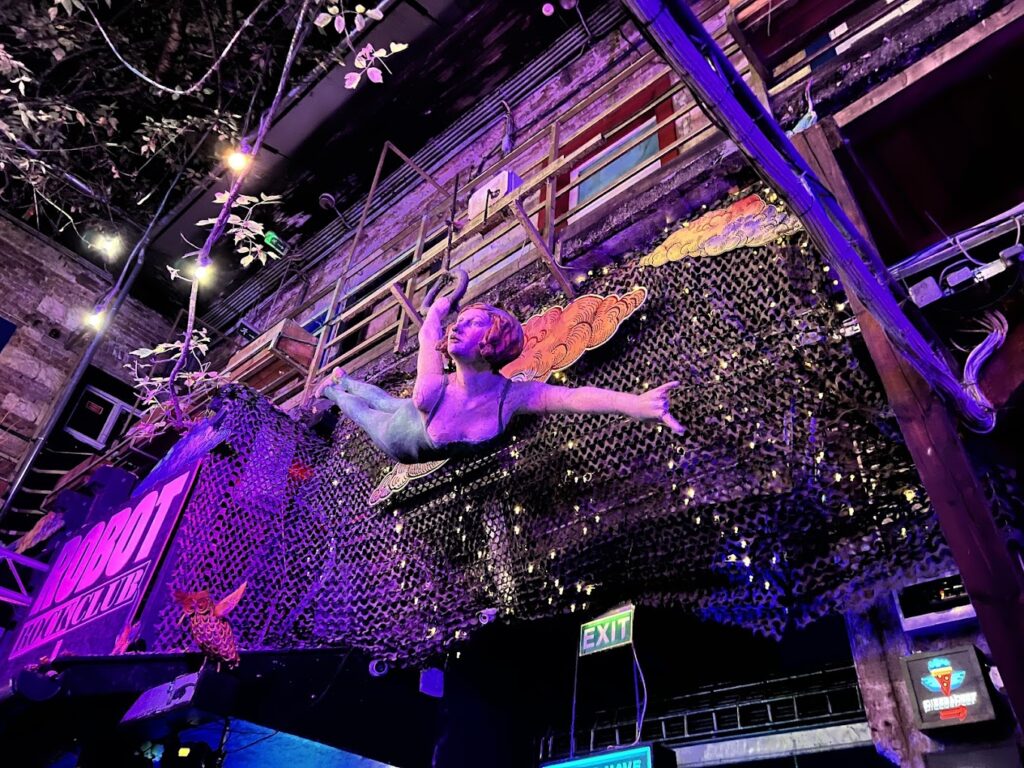 GOZSDU PASSAGE – Budapest nightlife 
While Gozdu Passage is not a ruin bar, it is right in the center of the Jewish Quarter and surrounded by ruin bars. A must for your evening! In a long courtyard there are restaurants, cafes, bars and clubs that host concerts and exhibitions throughout the year. The Klikk Bistro Bar and the Spiller Bar Restaurant are our favourites, as is the Italian restaurant "Jamie's Pizzeria" by famous English chef Jamie Oliver.
From Friday to Sunday between 10:00 a.m. and 5:00 p.m., the passage hosts a small arts and crafts and antiques market.
Address: Gozsdu udvar, 13. Király street and 16. Dob street, 7th district, Pest Opening times: Non-stop pedestrian zone. Free admission.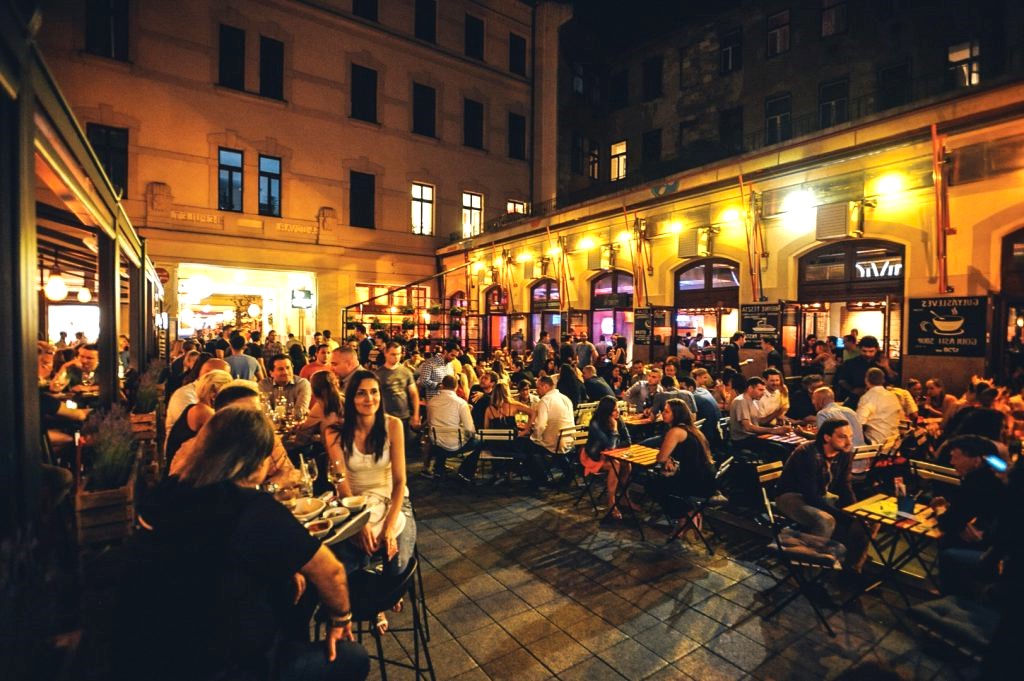 MAZEL TOV – Ruin bar in Budapest
Mazel Tov in the Pest Ruins Quarter is an upscale ruin bar with a proper restaurant serving oriental cuisine (hummus, felafel, couscous, pita etc.) in a unique setting with paneled walls, shabby chic furniture, fairy lights and gorgeous greenery on the high ceilings offers blankets.
In the evenings, concerts are often held in the garden, which is covered in winter. It's gotten a hype, but it's always warm and crowded!
Address: Mazel Tov, Akácfa str. 47, 7th district, Pest
Hours of Operation: 10:00am to 1:00am Monday to Wednesday and Sunday, 10:00am to 2:00am Thursday to Saturday.
Reservations strongly recommended.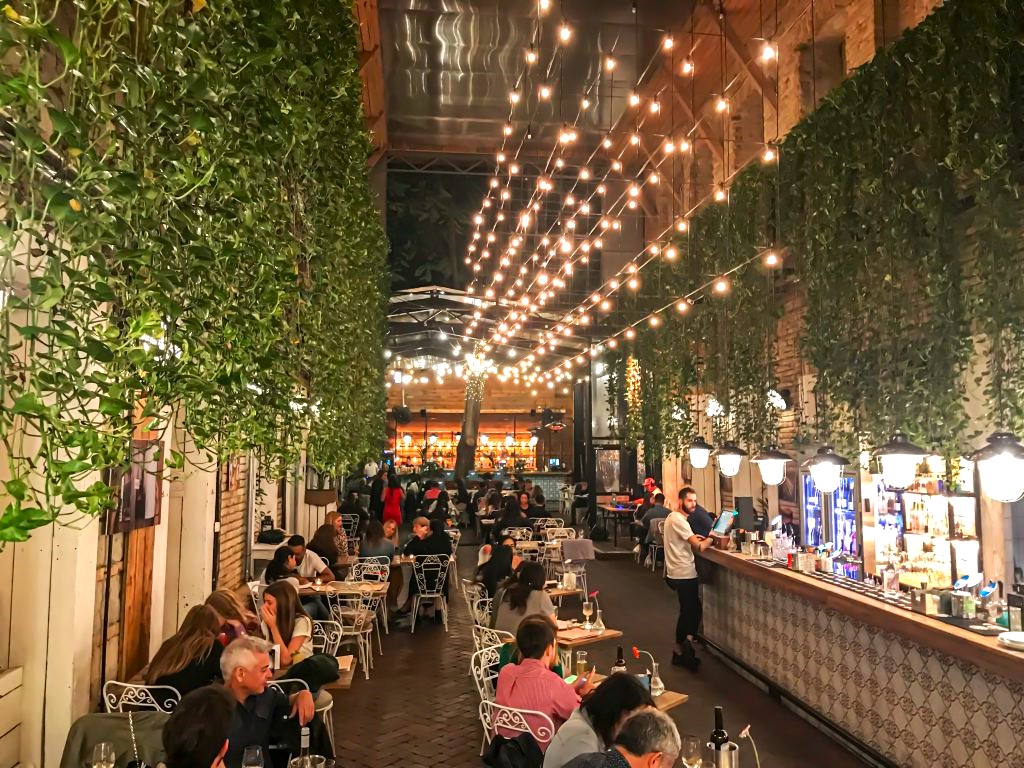 DOBOZ ruin club
Doboz ("The Box") is a popular ruin nightclub in Budapest that hosts concerts and is quite a nightclub with 2 dance floors catered by the resident DJs and 8 different styles of music from latin pop to hip hop. In their courtyard you will be greeted by a 320 year old tree and its carved gorilla!
Address: Doboz, Klauzál street 10, 1072 Budapest,
Open from Wednesday to Saturday from 17:00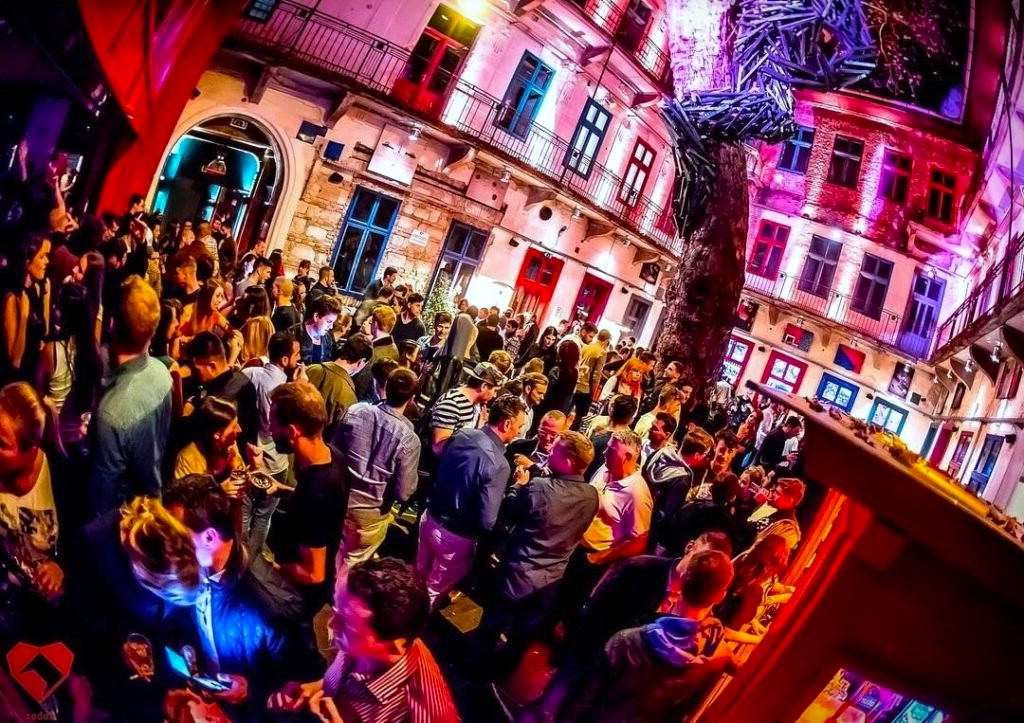 ÖTKERT – Nightlife in Budapest
If you want to dance the night away, the Ötkert Klub, located between St. Stephen's Basilica and the Danube in a different setting from the ruin bars, is the place to be. Many concerts are also held here (program on the website).
Address: Ötkert, Zrínyi street 4, 5th district, Pest,
Opening hours: daily from 11:00 a.m. to midnight. Wednesday – Saturday: 11:00 a.m. – 05:00 a.m.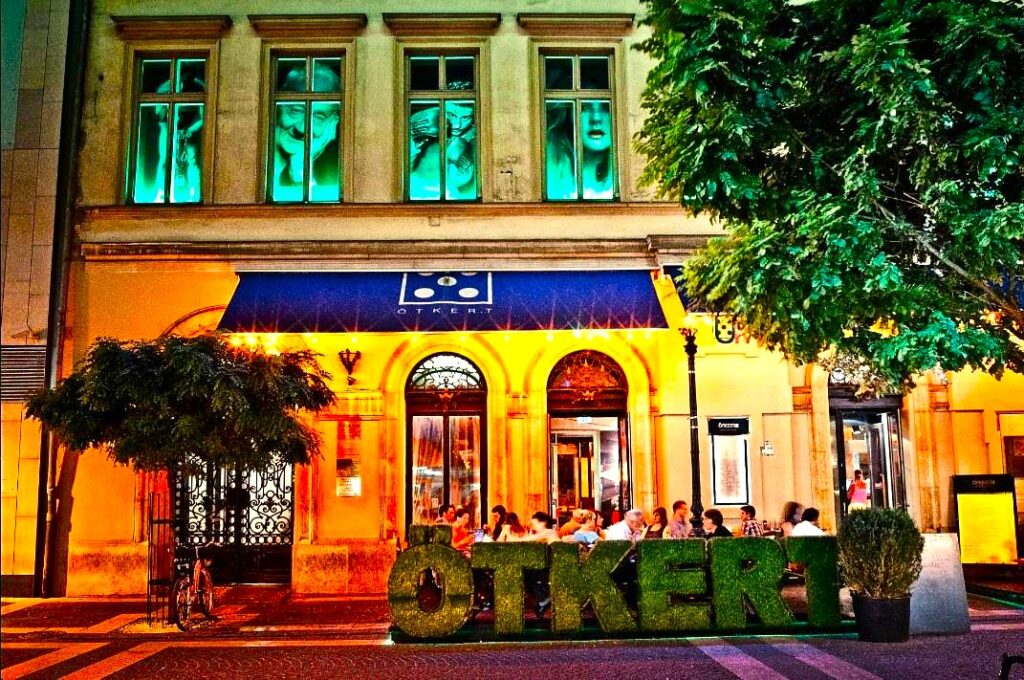 AKVÁRIUM KLUB – Nightlife in Budapest
Akvárium Klub in Pest city center welcomes you with a large terrace and steps on Erzsébet Square. It is one of the trendiest meeting places in Budapest at night. The club itself is a veritable cultural center, where exhibitions and underground music concerts are regularly held.
Open daily from 12:00 p.m.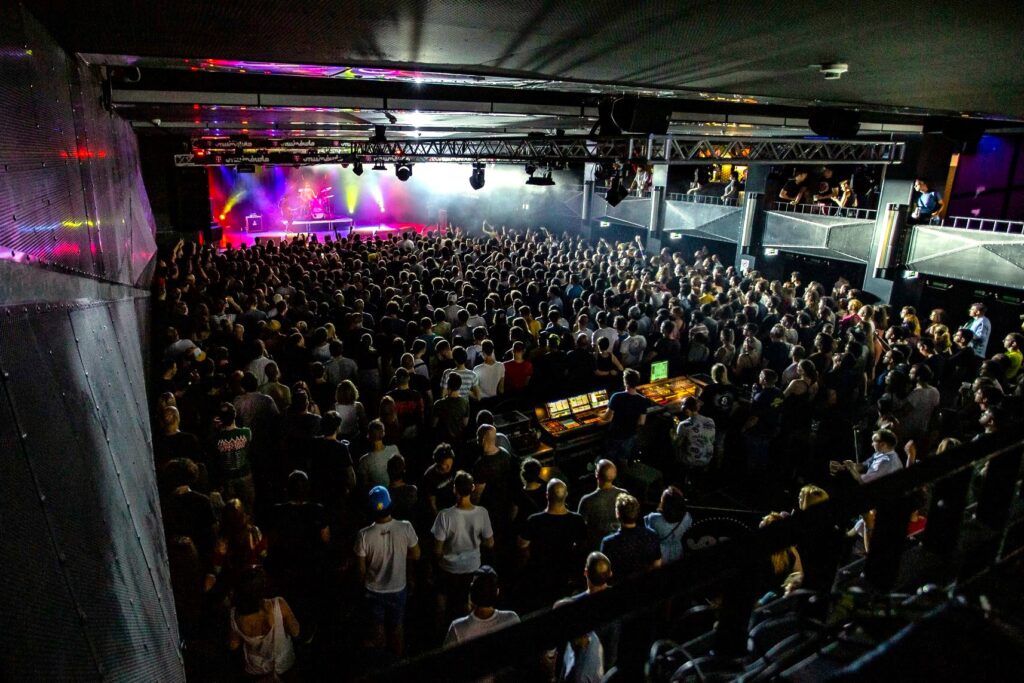 Original Pub Crawl and VIP Club Entry
Visit the best bars in Budapest for a wild night in the city center and discover the famous ruin bars along the way. The evening includes a bar with free drinks for 1 hour, drinking games, free shots and VIP entry to one of the hottest clubs in the city. Meet fellow travelers from around the world and party as you explore Budapest nightlife. Every evening from 9:30 p.m.: