Stripper service in Budapest
If you want Strippers for stag do in Budapest, we are stripper provider in Budapest. That's sure. We arrived to Hungary last week for my brother's Stag do. Our team was a massive lad pack from Belgium and we wanted to have an awesome time in Budapest. We arrived by 2 pm in the afternoon and our Welcome tour guide Vivien was pretty and professional from the start to the end of our weekend. We ordered a welcome hitch-hiker stripper for the way to our accommodation in the city center. The stripper was very nice and made a breath taking show for Nick, our stag. We've met Peter after the airport jaunt and had a welcome drink together in our Apartment. He is a very busy guy but was very helpful during the hall Holiday.
After a few hour Vivien came back to pick us up before the pub crawl which was genuine and better than what we've expected! The bars in Budapest are lovely and full of talkative local girls and boys. Highly recommend to everyone who wants to come to Budapest any time during the year.
Next morning we wanted to order a morning glory surprise strip show to our bachelor so Stag VIP has sent us two super hot stripper to wake us up with a rude lesbian show involving the sat and the hall group. It is the best day starter activity trust me! The weather wasn't so nice but this made our day! After that we went to a shooting range near Budapest to try some serious toys. AK-47 shooting was a bit frightening because it's a really noisy rifle but everything was fine and the lads were really happy to try these things first in their lifetimes. Vivien tried some of the guns too and she was like a real professional.. I'm really sure that it wasn't her first time in the shooting range.
We were a bit hungry after the daytime activity so we pre-ordered a burger activity with topless service in Budapest. What sounds really mannish. The burger menu included a fine beef burger with some salads and 2 beers but the icing on the cake was the super hot Hungarian topless lady with her unbelievable boobs. Nick was a bit shy at the first times in Budapest but after a few stripper he was like a real badass. I hope his future wife won't read this but what happens on the stag do stays on the stag do. After the dinner we had another surprise strip show as a present from Peter's crew.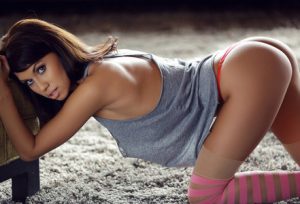 Susan was a professional entertainer and a really hot Hungarian beauty. Thanks for all guys. Excellent service form Stag VIP Budapest, Susan and the other strippers offered genuine show and everything was really funny. I would recommend it to anyone going to Budapest!