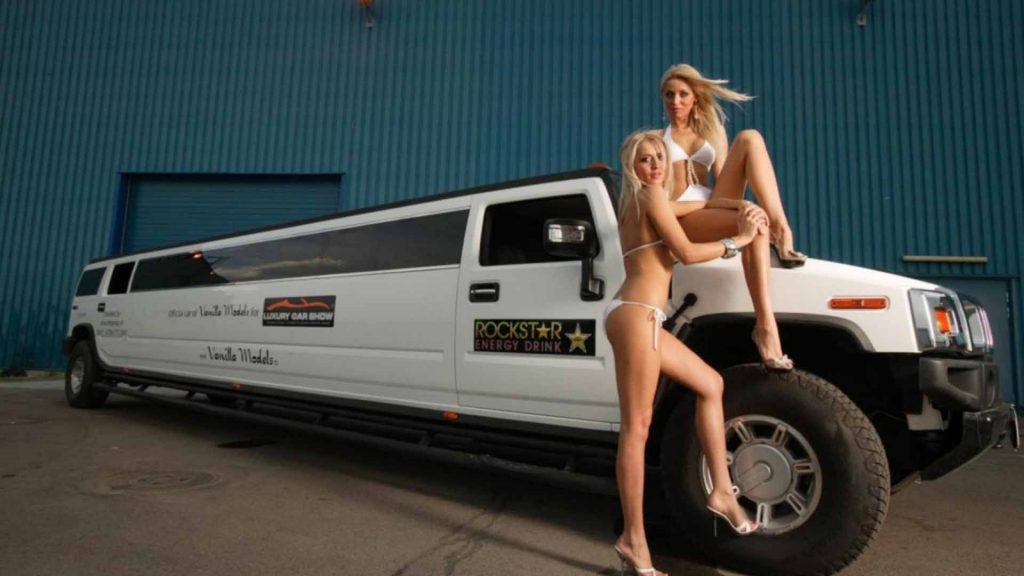 Best activities in Budapest! This long ride provides all the glitz and glamour you need to make your stag do in Budapest, the pulsing heart of Europe the center of attention.
We can pick you up at the airport, or just take you to an hour's jaunt around Budapest. 2 super hot professional stripper will appear during the limo ride, and will do an astonishing lesbian show involving the stag. You don't want this night to end!
★ CLICK HERE FOR OTHER ACTIVITIES ★
Strip Hummer in Budapest includes:
Available for airport pickup and city tour
Champagne according to the group number
Maximum 18 people
Lesbian show in the limousine
A real Hummer Limo with stripper in Budapest!
What is the maximum number for a booking?
Groups of up to 19 people can book.
Enjoy a Hummer limousine with a chauffeur...
The Hummer Limo can pick you up from the airport or Budapest bus station. You can also rent the limousine for a city tour.
The driver has music CDs and usb also available in the limo. But you can also bring your own favorite music.
The maximum capacity of the Hummer Limousine is 15 -26 people.
Budapest Strip Show: our Hungarian strippers are attractive and sexy!
The Budapest Strip Show is guaranteed to take your breath away. Our Hungarian strippers are lovely and attractive girls and women who know how to tease you... Anything goes, so don't be shy. Budapest Strip Show with us: Book now and hold your breath!
Budapest strip Hummer Show:  let yourself be seduced!
Let yourself be enchanted by erotic dance moves and red underwear. Enjoy it! Your hottest dreams will come true. Whether just watching or touching, everything is allowed. In any case, you can admire real bodies at Budapest Strip Show. Erotic stag do activities in Budapest includes hot moves, professional singing and spectacular eroticism. There is no room here for the problems and worries of everyday life. The Budapest Strip Show is erotic and tasteful. For a while all the stress can be forgotten...
For Strip Hummer we are looking for the most attractive girls and women as strip dancers. Their bodies are the epitome of perfection and when it comes to sex appeal, they're above the goddesses too!
Book a female sex bomb For your Budapest stag do Weekends!
The strippers in Budapest perform erotic and dynamic movements that will quickly become addictive. Admire female bodies as sex objects. During the limo tour you will experience the fire and temperament of sexy women.
This combination will make you never forget your stag do in Budapest again! With the Hummer Limo XXL & Strip activity you will spend a unique moment:
An hour city tour or airport pick up where you will discover the evening lights of the city of Budapest. At the same time, you can toast the groom-to-be on board and have a really good time. The best:
A hot Hungarian woman on board will put on a strip show that will give you an extra boost during your ride. A station wagon you've all secretly dreamed of, right? So don't miss them under any circumstances!
For example, after a delicious dinner - try the Lounge Dinner activity or the traditional Hungarian food here - you can be picked up and enjoy an hour night drive around 11 p.m. to drop off your Hummer Limo XXL directly in front of a club of your choice to let. Or you can use the trip as an aperitif and treat yourself to a drink or two before going to dinner.
Your choice!
Birthday strip show – the celebration in a special way
Garnish the birthday party with a stretch limousine ride. Not enough for you because you want something special?
That's why you've come to the right place. We have a tip. A limousine ride with an erotic stopover. Because a problem suddenly arose, the chauffeur has to stop briefly.
However, what the birthday girl doesn't know is that there's about to be a hot strip show for her birthday. No matter whether for female or male people and which costume it should be. We are well prepared for this with strippers and are eagerly awaiting the next birthday parties. Result: Unforgettable experience in the stretch limousine. After that, of course, we continue in the luxury vehicle to the destination address, where the party continues. The best thing is, we take care of booking the dancers. In any case, successful surprises are the order of the day here!
Stag do party in a Hummer limousine – the classic stag party
One last time properly, go party unmarried and welcome the upcoming marriage. With a hummer limousine ride you are already on the right track.
But how about an unexpected surprise for the bride or groom for their bachelor party?
We offer hot strip shows in our limousines that make the temperatures rise very quickly.
The chilled drinks in the minibar will cool you down. The well-known "Hitchhiker Show" is particularly popular. The stripper is waiting in one place. On the way to the party location we have a small problem right there and the driver has to stop. But when the door opens, you don't see the chauffeur. no It is the stripper who sits on your lap in the desired costume and the tingling show begins.
Unforgettable bachelor parties with friends and acquaintances, with whom one can say goodbye to marriage.