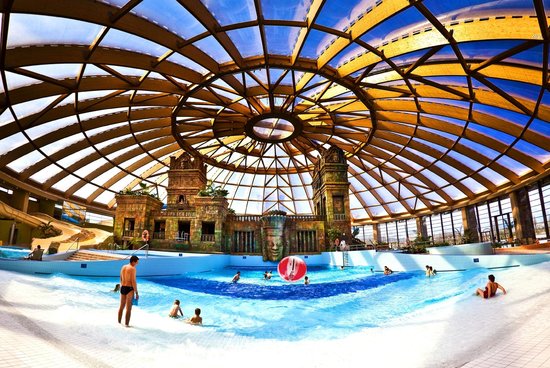 Aquapark Budapest with Breath-taking adventures, suspension bridges, pools, towers are waiting for you in one of the most famous indoor water theme park in Europe. You will be enchanted by the super fancy architecture design of the water park and it's racing tubes, jacuzzis, swimming pools and water slides. This is the real combination of water and fun.
Book this popular activity for your stag/hen do with us and we guarantee that you won't be dry.
★ CLICK HERE FOR OTHER ACTIVITIES ★
Aquapark in Budapest includes:
Transfer to the venue
Round of beer / cider
Professional English Speaking tour guide for 4 hours (you can stay more)
Additional hostess/host service
Tickets, cabins, many water amusements, swimming pools, and slides
Aquapark Budapest - Stag do on slides
Dive into a day of aquatic fun and relaxation with the Budapest Aquapark Stag Do—a refreshing and entertaining activity that promises a perfect blend of excitement and leisure. This adventure includes private transfers, ensuring your group experiences a seamless and enjoyable celebration for the groom-to-be and the entire stag party.
Your stag group starts the day with private transfers to Budapest's premier Aquapark, setting the stage for a day of aquatic adventures and relaxation. The Aquapark Budapest boasts a variety of thrilling water attractions, from exhilarating slides and wave pools to lazy rivers and relaxing spa areas.
Splash into the excitement as your mates navigate the twists and turns of the water slides, race down high-speed chutes, and enjoy the refreshing splash of the pools. Whether you're seeking adrenaline-pumping thrills or simply looking to unwind in the sun, the Aquapark Budapest offers a diverse range of attractions to suit everyone's preferences.
The private transfers ensure that your group can focus on the fun without any logistical worries, allowing for a carefree and enjoyable celebration. Capture the laughter, camaraderie, and exciting moments with photos or videos as your mates take on the water slides and relax in the park's various pools.
Consider customizing the experience further by arranging themed water games, challenges, or even incorporating a relaxation area for those looking to soak up the sun. The Aquapark Budapest stag do activity promises not just a day of water-based fun; it's an opportunity for your mates to bond, relax, and create lasting memories during the stag do celebration.
As the day concludes, your group leaves the Aquapark with refreshed spirits, sun-kissed memories, and the satisfaction of a stag do that went beyond expectations. Cheers to a day of aquatic adventures and leisure that adds a splash of excitement to your Budapest celebration!