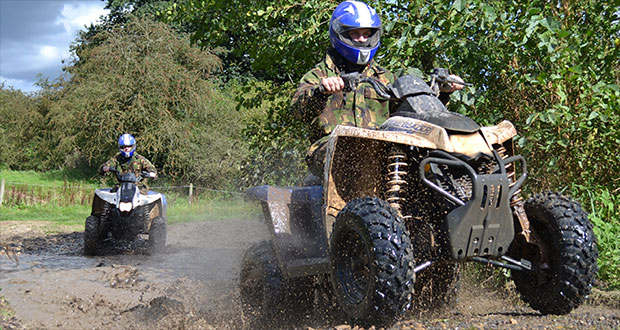 Quad Tour Budapest is an extreme Driving experience for your Stag weekend in Hungary. You can visit the beautiful country side with your friends and having fun during an amazing quad tour.
Book this popular activity and you'll get an unforgettable memory from Budapest
★ CLICK HERE FOR OTHER ACTIVITIES ★
2 Hour Extreme Quad Biking in Budapest includes:
Free round of beer
Professional Hostess/Host
Private transfer to the venue and back
2 hours of quad driving
Quad Tour Budapest - Extreme stag biking
Rev up the excitement for your Budapest stag do with an exhilarating Quad Tour—an action-packed adventure that promises two hours of extreme quad driving on powerful bikes. This thrilling experience is complemented by the convenience of private transfers and a dedicated coordinator, ensuring a seamless and memorable celebration for the groom-to-be and the entire stag party.
Your stag group kicks off the adventure with private transfers to the specially chosen Quad Tour location in Budapest. As you arrive, the anticipation builds for a day of off-road excitement and camaraderie.
The Quad Tour Budapest offers two hours of extreme quad driving on big, powerful bikes, taking your group through rugged terrains, challenging obstacles, and scenic landscapes. Whether you're tearing through dirt paths, conquering hills, or navigating winding trails, each moment on the quad bikes is bound to be an adrenaline-fueled thrill.
A dedicated coordinator ensures that every member of your group is briefed on safety measures and quad driving techniques. Once suited up in the necessary gear, your mates are ready to embark on an off-road journey that combines the thrill of adventure with the beauty of the Hungarian countryside.
Capture the excitement with photos or videos as your group maneuvers through the varied landscapes, fostering camaraderie and creating lasting memories. The Quad Tour Budapest is not just an off-road adventure; it's an opportunity for your mates to bond, showcase their driving skills, and revel in the thrill of the Budapest stag do.
Consider customizing the experience further by incorporating challenges, additional off-road elements, or even arranging a friendly competition among your mates. The private transfers and the dedicated coordinator make the Quad Tour in Budapest a standout stag do activity that promises excitement, camaraderie, and unforgettable moments on the quad bikes. Get ready for an off-road adventure that goes beyond expectations!