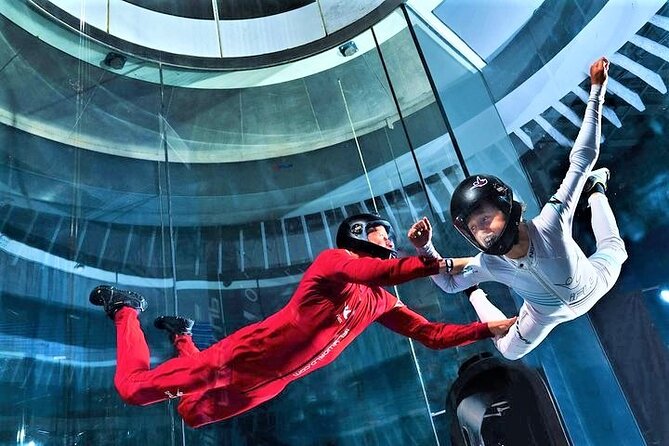 Indoor skydiving Budapest for adrenaline lover stag groups. We tend to recommend this activity to those who like to combine extreme sports with a lot of laughter and fun.
An outstanding experience of any stag do or even birthday is the unique indoor skydiving in Budapest. Book it with us now!
★ CLICK HERE FOR OTHER ACTIVITIES ★
Indoor SkyDiving in Budapest includes:
Private transfer to the venue and back
Guided activity
Professional sky diving kit
3 minutes indoor sky diving per person
Indoor SkyDiving Budapest - Affordable adrenaline consumption
Elevate your Budapest stag do to new heights with an exhilarating Indoor Skydiving experience—an adventure that offers the thrill of freefall without jumping out of an airplane. This unique and adrenaline-pumping activity promises an unforgettable celebration for the groom-to-be and the entire stag party.
Your stag group converges at the state-of-the-art Indoor Skydiving facility in Budapest, where the anticipation builds for an experience that defies gravity. Professional instructors guide your group through the process, ensuring that every member is briefed on safety measures and the fundamentals of indoor skydiving.
The indoor skydiving wind tunnel simulates the sensation of freefall, creating an immersive and thrilling experience. Each member of your group takes turns entering the wind tunnel, where powerful fans generate a column of air, allowing you to float and soar just like during a real skydive. The sensation of weightlessness, the rush of wind, and the freedom to perform aerial maneuvers make indoor skydiving Budapest an unforgettable adventure.
Capture the excitement with photos or videos as your mates experience the sensation of flight, fostering camaraderie and creating lasting memories. Indoor skydiving is not just an adventure; it's an opportunity for your group to bond, conquer fears, and revel in the unique thrill of defying gravity during the Budapest stag do.
Consider customizing the experience further by incorporating personalized flights, challenges, or even arranging a friendly competition among your mates. Indoor Skydiving Budapest is a standout stag do activity that promises an extraordinary celebration, combining the adrenaline rush of freefall with the safety and exhilaration of an indoor environment. Get ready for a day of high-flying excitement that goes beyond expectations!