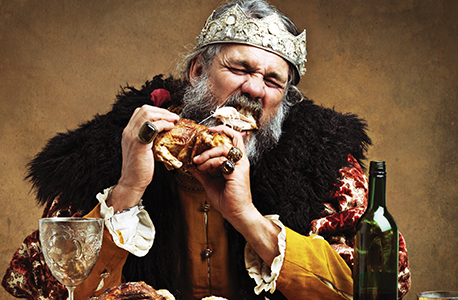 Medieval feast Budapest edition! It could be a very important part of any Stag/Hen do party in Budapest. Enjoy your time with your Stags/Hens and eat as much as you can.
Don't forget that it's maybe your last dinner with your bachelor/bachelorette before He/She gets married. Stag VIP Budapest proudly presents the one and only medieval dinner in Budapest. All others are fake or just weak copies. We serve the best medieval dinner in fantastic renaissance atmosphere in Hungary. Here's your place dudes If you want to spend your time stylish.
★ CLICK HERE FOR OTHER ACTIVITIES ★
Medieval dinner in Budapest includes:
Renaissance restaurant
3 course dinner
1 round of Beer
Tour guide
Different shows provided by the restaurant
Medieval Feast Of Budapest
During your bachelor party in Budapest, reenact a scene of visitors with an original and copious medieval type banquet in a unique atmosphere! The atmosphere during the meal, chivalrous decor, minstrels... You will have the impression of being in the time of the knights, enough to spend a unique and epic evening!
What is Included?
-medieval restaurant
-Atmosphere and gastronomy of the Middle Ages
-Menu with starter and dessert
-Huge meat platters to share
-2 glasses of beer/wine per person
-Shows during dinner
-local guide
-Savor gigantic and delicious platters of meat with your hands in an -authentic atmosphere of the Middle Ages. Belly dancers, fire eaters, live music, everything is given to satisfy the biggest appetites and to spend an unforgettable stag party.
A delicious journey through time for his bachelor party in Budapest.
Procedure:
You meet your local guide in front of your accommodation or at a meeting point fixed together beforehand, so that she can accompany you to the medieval restaurant.
You will be able to taste a typical menu of the Middle Ages: starter, plates of meat with accompaniment and dessert.
Come with an empty stomach, as the portions are huge.
During dinner you can enjoy the different shows of the time.
2 glasses of beer per person or a bottle of wine / 4 people are included with your formula.
The guide eats with you and takes care of all the details, you just have to enjoy.
Location and time:
The restaurant is in the center
It can be reached on foot (depending on your address) or you can get there by taxi or public transport at your expense.
Dinner time to enjoy the medieval shows is 7 p.m.
This formula can also be organized at noon.
Available all year round.
Activities to follow:
Before dinner, we recommend taking a memorable cruise with a big surprise in the mud, or challenging the future groom during the challenge course or the sexy orienteering course, but you find the entire selection for the afternoon in our daily activities.
After dinner, a limousine or a Hummer can pick you up, the White Hummer XXL, the Party Bus or the Daddy Hummer for example, will surely impress the future groom and you can spend a crazy time there before arriving in a club. night.
A tour of the best bars in Budapest with strip club, beers and entry to a nightclub is always a good idea, or to end the evening you can book a VIP table, or why not try the legendary Budapest SPA Parties
Good to know :
The price is calculated on a group of 10 people with a minimum of 2 activities and is to be understood per person.
The organizer reserves the right to refuse groups arriving in a drunken state or under the influence of drugs, in the event of dangerous behavior the activity is immediately suspended.