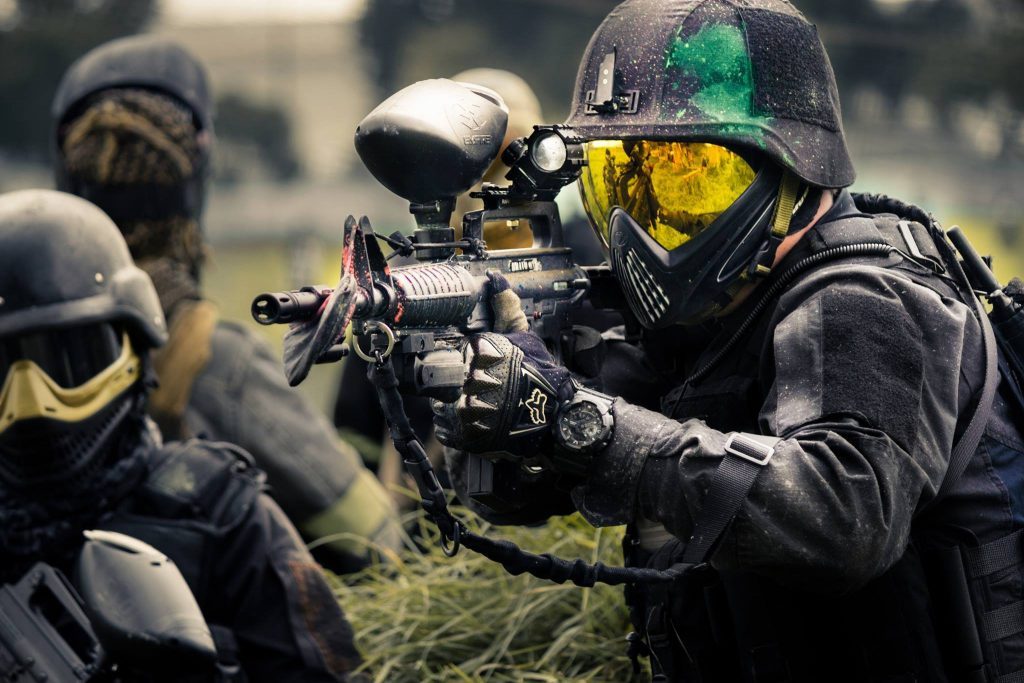 Paintball in Budapest is really awesome for any Stag do weekend or team building in Hungary. You feel like you are in a real battle with your friends.
Adrenalin on top, your team is hiding behind something, when you realize the enemy is behind you. Than the real war starts. No matter you lose or not, you will get an unforgettable memory.
★ CLICK HERE FOR OTHER ACTIVITIES ★
Paintball battle in Budapest includes:
Professional Hostess/Host
Transfer to the venue and back
Professional paintball equipment
200 paintball
•Free round of beer
Do you want to do a completely fun and crazy group activity to have fun with friends during a bachelor party? Stag do Paintballing in Budapest is what you need! In Paintball, different scenarios can be proposed: catching the flag, attack-defense, or the essential for a bachelor party, the hunt for the man (or the rabbit) for the groom.
But what is the principle of Paintball? Well, you are competing against an indoor or outdoor court. The objective is simple: eliminate the players of the opposing team by shooting them with colored balls! A superb moment for sure and an essential activity for a bachelor party.
Find below all our destinations where you can do the Paintball activity during your next stag party. Paintball is the ideal activity to take revenge on the groom during his bachelor party. ;)
Do you want to organize a group activity or a bachelor party and have fun with friends? Nothing better than stag do paintballing budapest edition! This activity offers different types of games such as: catching the flag, attack-defense, or even the manhunt (for the groom).
It's about you face on a field and eliminate the players of the opposing team by shooting them with colored balls! A superb moment for sure and an essential activity for a stag do.
What are the rules of stag do paintballing in budapest?
The principle of paintball is simple, two teams compete on a natural or artificial terrain often strewn with obstacles to hide. Each player is equipped with a marker also called launcher, this one will propel balls of biodegradable and colored gelatins. To win the game, you must eliminate all the players of the opposing team by marking them with a paint stain. A player is eliminated as soon as he receives a paint impact, he must then wait until the end of the game to participate in the next match. The game can be spiced up with an objective such as first bringing a flag to the base of his team from the opponents' landmark.
Is it a dangerous activity?
In order not to injure yourself, safety distances must be respected in order to be able to aim at your opponent. You should then just feel a slight pinch on impact. To say that paintball is a dangerous activity and a received idea, we expose ourselves at most to falls when we run or jump. If paintball is accessible to everyone, the little ones will have more appropriate low-power launchers to avoid sores.
What outfit to play paintball?
Paintball is a very physical sporting activity, so it is more than advisable to wear sneakers and a casual outfit that covers the legs and arms. The activity center can also provide you with breastplates and other protections. To avoid the stains, you will have to avoid the bullets! Otherwise, the paint washes off easily in the washing machine and water.
We are all big kids deep inside, and what better way to renew ties than to attack together under fire from the opposing team? The memories of your paintball day will have you crying with laughter for years to come. As the moment Stephane stormed a bunker with a paint grenade in each hand, only to find they had 5 seconds left for the grenades to explode, while the bunker was 10 seconds ahead of him. Bomm! What surprising things will happen at your friend's bachelor party?
Special parties are organized for bachelor parties - which highlight the key person of the day... the stag. If the mission is to chase the rabbit - you already know who the rabbit will be!!!
Stag do paintballing in budapest is a great way to celebrate your last days of freedom with your friends. Friendships are formed and renewed in the action of our scenarios, and there's nothing quite like going under fire with your team to find out who among them really is your friend!