Body sushi Budapest edition is one of our most popular and most sexy stag do activity in Budapest. Come and eat the best sushi served on the most beautiful girls of Hungary. Available during a private boat cruise or at your accommodation as well. Body sushi is a unique experience in Budapest, try it with our most beutiful ladies!
★ CLICK HERE FOR OTHER ACTIVITIES ★
Body Sushi in Budapest includes:
Sushi mix for the group served on a semi naked girl
Full nude strip show after you eat
1 bottle of bubbly
Professional service
Only in private apartment - airbnb
The Art of Naked Sushi
You already know sashimi or sushi – two famous delicacies of Japanese food culture. They also know how to eat sushi and sashimi properly Japanese. But did you know that there is still such a thing as the ultimate art of enjoying sushi especially for stag do party in Budapest?
Nyotaimori, also known as Nude Sushi, is the art of enjoying the world famous sushi. So where does nyotaimori – nude sushi come from?
To answer the above question, let's find out with Hitomy.
In Japan, nyotaimori means "female body", where "female body" is another woman's body and "tumb" is the tablet. In other words, this is a term that refers to the enjoyment of pieces of sushi placed on the body of a naked woman (geisha or nowadays strippers).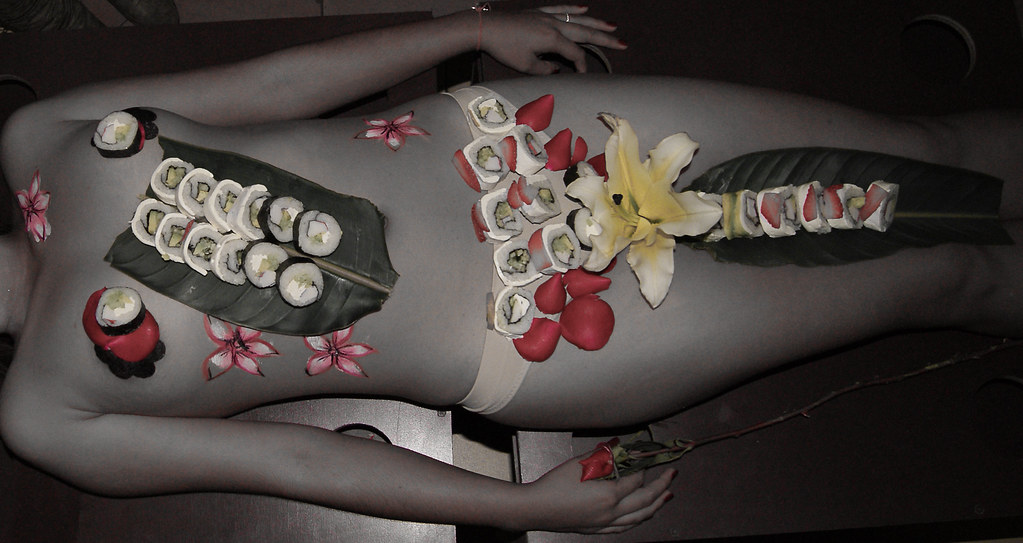 Another thing you should know is that nody sushi is enjoyed not only on women's bodies but also on men's bodies. The art of enjoying sushi naked on boys bodies is called Nantaimory. However, it is still unknown why Nantaimory did not achieve the same level of popularity and popularity that Nyotaimori did.
It's no exaggeration to say that Nyotaimory is an art because it's an ingenious combination of installation art on the curves of a woman's body, but not vulgar at all. Not only is attention paid to the layout, but each piece of sushi or sashimi placed on the woman's body is also carefully crafted to bring guests the inherent fresh taste of the ingredients.
Body sushi Budapest - The history in a nutshell
It's essentially art, but in traditional Japanese cuisine, nyotaimori doesn't exist. According to Japanese history, nude parties date back to the samurai era but were not very common. Even in places like brothels, nyotaimori are not held regularly. This art, too, fell into oblivion in the development of Japanese cuisine.
Even without mentioning the past, a look at the present shows that this delicate art is not yet accepted. The proof of this is that there aren't many restaurants in Japan that offer this type of nude sushi.
Although history has disputed this, we cannot deny this, "nude sushi" has become a famous and premier food art form, reaching countries in the west.  In particular, the brand originally named "Nyotaimori" was honored to be ranked among the top 3 unique - weird - successful restaurants in the culinary field.
Body Sushi Budapest - Why body sushi is so popular?
Why? Regardless of the uniqueness of this art form, the way of serving "nyotaimori" every time someone wants to enjoy it is very impressive, and the process of preparing and processing the ingredients is also very refined and meticulous.
The selection of "geisa" is not easy either. The first criterion to become a "sushi model" must be beautiful Asian girls, smooth white skin and well-proportioned bodies. Most importantly, this person is still a virgin. (in the old times)
In Budapest or any popular stag do destination in Europe, the sushi models are well talented super beutiful strippers or naked models.
There is strict selection, but that's not all. The girls selected go through very hard training to be able to lie for hours without moving. The most difficult thing is that the room temperature is always kept quite low so that the dish is not warmed up by body temperature.
The mere idea of not wearing anything and having to lie motionless for hours in a temperature of 15-20 degrees Celsius must bore many people. Although they say they wear nothing, girl's private parts are always covered with flower petals orleaves.
Body Sushi Budapest - Can I try it everywhere?
Although this art form is welcomed in many countries, particularly in the Europe especially in Budapest. it is banned in China for a number of reasons of decency.
Here's what you need to know about Nyotaimori - The Art of Nude Sushi. Although there is no restaurant in Muchen that serves this art form, there are other great things waiting for you to enjoy, such as delicious sushi pieces or sashimi.
Body sushi Budapest edition presents all the discreet erotism and culinary supremacy what you should try when you celebrate you stag do in Hungary.