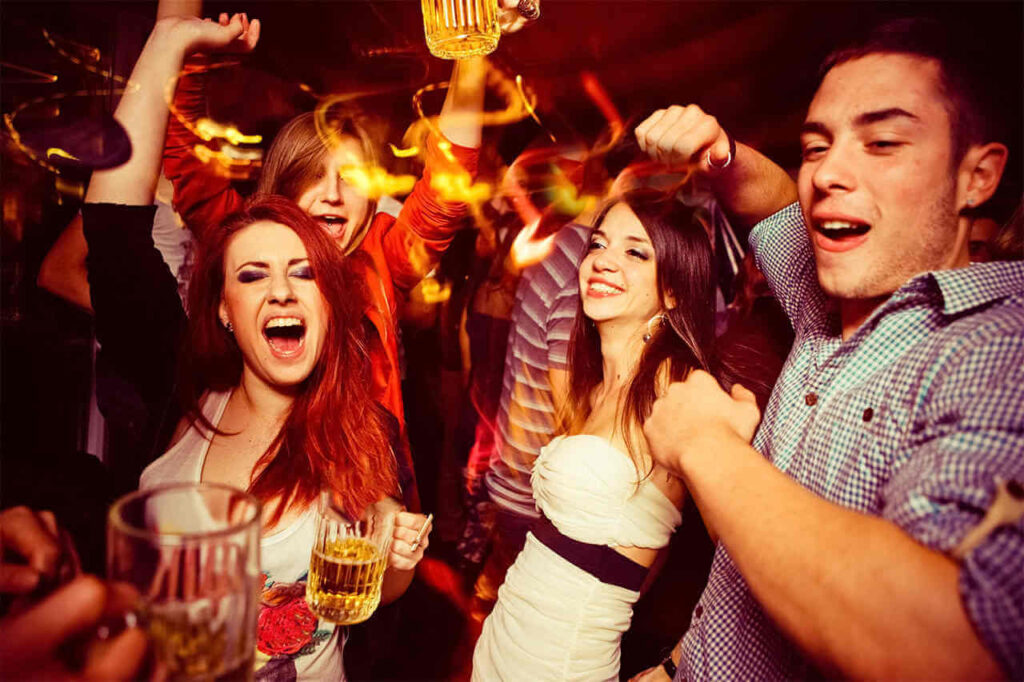 Budapest pub crawl for stag is an essential program but It's not a good choice to heading out on the town with a big group who can't speak the local language, and absolutely have no idea where to go. We are here to help you and introduce you the pulsing nightlife of Budapest. Our professional Tour Guides are ready for your service, and take you to the most popular ruin bars during your bachelor or any party holiday.
★ CLICK HERE FOR OTHER ACTIVITIES ★
Pub Crawl in Budapest includes:
3-4 popular bars
English speaking hostess/host
Free shots at every place
Ruin night club at the end
Strip club visiting is available
VIP club reservation available
Budapest pub crawl
Budapest pub crawl is the activity to start your evening off right during a bachelor party. Accompanied by a local guide, your group will crisscross the streets to discover the best pints, cocktails and other beverages (at your convenience), in the trendiest bars in the city.
During this stag party activity, the guide adapts to your group, your tastes and your desires to show you the best bars in the area. The purpose of this activity is to make you have a great time to start the Stag party.
Find below the list of all our destinations where the pub crawl activity in Budapest is offered for your bachelor party. This activity is really essential to start a stag party well
Are you the lucky organizer of your friend's bachelor party and don't have the time – nor the desire but let's go – to plan a crazy activity? Nothing could be easier to plan than a good old bar crawl... and, from an atmosphere point of view, it's a hit every time!
Where ?
Where to go bar hopping? In Budapest, or other city? And in which city?
It could be nice to spend the evening in the bars where your friend spent his student evenings. If you haven't studied together, contact their faq friends or ex-roommates and ask them to help you with directions.
If the future groom likes special beers, why not consider a bachelor party in Budapest? You can even visit breweries and make it a whole beer-themed weekend.
Attention: remember to return at the end of the evening. Designate a driver in advance or – even better – save the number of the local taxi in your phone.
Price
Decide for yourself how much you spend on a pub crawl by setting a budget in advance with all stag party hosts. Make a kitty so that the stag does not have to worry about anything!
Disguise & flirt
The essential of the bachelor party: the disguise. Add a good dose of humor to your pub crawl by dressing up all of you. If so, all of them. Be united, let's see! The highly sought-after Dragqueen costume is a bit much, but there are other options: geek, superheroes or Vikings. You don't have to go all out, a little detail like a mustache, a wig or a bow tie can already have a great effect. In addition, the advantage of the discreet but well-found disguise is that it attracts girls like flies!
And speaking of women, you can play naughty jokes on her during her stag party bar crawl. First idea: Dress the woman. Attach an inflatable doll to the wrist of the future groom and challenge him to dress him with the clothes of the girls around him. Second little pledge that you can make last as long as you want: International Bachelors. Each of you chooses a country and a language and speaks French with an accent to approach girls. Whoever can convince girls of his new nationality wins and receives… well, uh, a beer, what! Third attempt at rapprochement: the candy necklace. The future groom will have to sell his sweets for the price of a shot.
More drinking games during the Budapest Pub Crawl?? In fact, we have dedicated a few themed articles to it: drinking games with cards, drinking games with dice, etc.
A tip for the road
Don't let the future groom go unnoticed, give him a T-shirt with a stag party text or put a crown on him so everyone knows he's the star of the evening.