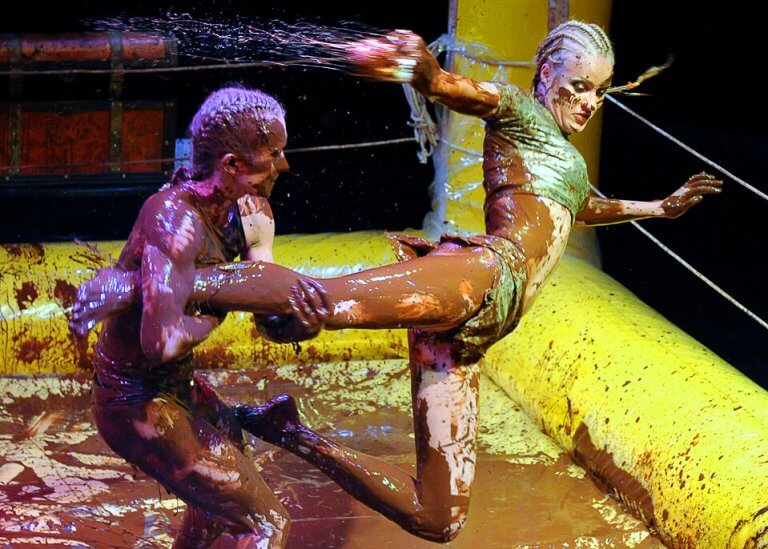 Mud wrestling club Budapest edition is one of the most popular stag do venue in town. Book one of the World famous Hungarian mud wrestling stripper activity in this club/bar and be part of an unforgettable memory! Try with normal ladies or even an XXL lady.!
★ CLICK HERE FOR OTHER ACTIVITIES ★
Mud Wrestling Club in Budapest includes:
Mud wrestling in a private bar
Available with lesbian show
Available with XXL woman
1 round of beer
We have the best shows at your disposal, including mud wrestling Club in Budapest. An exciting championship of girls and the groom in which they compete to be the one who is left without a bikini. If you want to make a fun, original, and very spicy farewell, hire this service, in which they will later participate with the boyfriend while he resists not being left without clothes. You will make one of the dreams of all the guests who will be delighted come true. It is not about violence or getting hurt, but about seeing which of the two rivals manages to take off the other's clothes first while you see two spectacular girls in bikinis, wet with mud, "wrestling" in a ring, a combination of fighting , wet women, and eroticism that will drive you crazy. The best thing is that one of the attendees will be able to participate in the fight with the girls. What are you waiting for?
Mud Wrestling Club Budapest
We leave you one of these videos with a mud fight held in one of the best-known Budapest nightclubs in the 7th district in which this type of show has been made in the Skemelajt nightclub. We were an act of presence and organization of these sensational strippers where, in addition to each other, the attendees who want to are also participants. This is one of the best stag do activities in Budapest! The fun of this contest of champions is guaranteed. The time is estimated by a referee to mediate the pauses and interruptions.
If you wish to carry out this stag do activity, we will organize it for you. We are responsible for the mud wrestlers. What is necessary for this meeting is that you have an appropriate place such as a removable pool and fill it with a little water and mud (clay), where this fight of maximum speculation and fun for everyone will take place. You can also hire this mud fight option for farewells.
Get in touch to find out how to hire and perform this service, solve your doubts, and let us organize your mud wrestling club experience in Budapest.
In today's post we want to talk about one of our most interesting services/shows, and one that is gaining more and more fame. It is about the well-known fight or farewells in mud between girls. Are you ready?.
A lifelong mud wrestling show but with some of the most attractive women in the national territory. In this little fight you will not find violence or real "fights", since the main objective is simply to entertain the public in a healthy way. The objective of the participants will be to remove her bikini from the "rival" and leave her completely naked. It is also possible to have someone who acts as a "referee" and thus give it a more serious and professional point. With pauses and interruptions avoiding any possible "play" not allowed. And to make it more fun, any of the guests can offer to act as a referee.
Mud wrestling with Bachelor Parties
Mix of sports, eroticism and entertainment that will enchant all the guests and they will remember it for a long time. And it will not only be about being a spectator, some will even be able to participate in the game and be "attacked" by the girls to take off their clothes. Making the whole public have a great time and never forget that magical stag night.
Have we convinced you for trying mus wrestling in Budapest? Would you like to enjoy your own muddy farewells at your bachelor or bachelorette party? Don't think about it anymore, we take care of everything. You just need a place, that is, a small removable pool filled with water and mud, and we take care of the strippers and the groom.