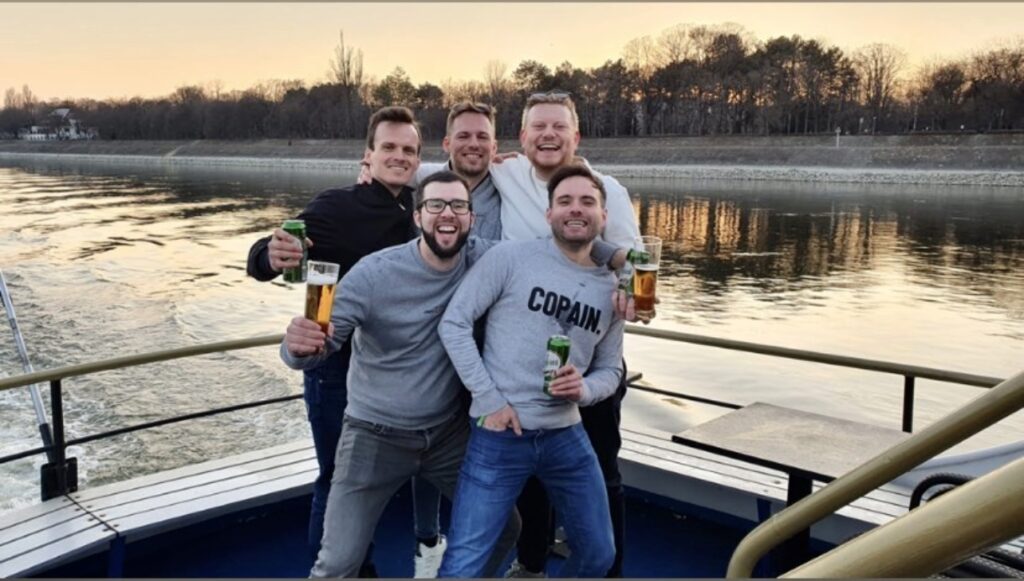 Stag river cruise Budapest is a fantastic opportunity to have great fun with your lads during your stag weekend in Hungary!  The packages includes unlimited booze consumption and various stripper packages & pranks. Do not hesitate do ask our professional organizers to make your stag river cruise unforgattable in Budapest.
★ CLICK HERE FOR OTHER ACTIVITIES ★
Wicked Cruise in Budapest includes:
1 or 2 hour private boat hire
Stripper packages
Pranks
Pirvate transfers
Professional tour guides
Stag River Cruise Budapest - Legendary activity
Embark on an unforgettable Budapest stag do adventure with a Stag River Cruise—an enchanting experience that combines scenic views of the Danube River with the lively atmosphere of a private celebration. This activity promises your group a relaxing and entertaining journey along the iconic waterways of Hungary's capital.
As your stag party steps aboard the private river cruise, you're greeted by the gentle sway of the boat and the breathtaking panorama of Budapest's landmarks. The vessel, reserved exclusively for your group, features comfortable seating, an open deck, and large windows, ensuring that every member of the party has a prime vantage point for enjoying the city's beauty.
The Stag River Cruise is more than just a boat ride; it's an opportunity to celebrate the groom-to-be in style. Whether you choose a daytime cruise to appreciate the architectural wonders lining the riverbanks or an evening cruise to revel in the city lights, the atmosphere is set for an unforgettable celebration.
With the Danube River as your backdrop, enjoy the camaraderie of your mates and toast to the upcoming nuptials. The private setting allows for uninterrupted bonding, shared laughter, and memorable moments that define the essence of a stag do celebration.
Consider enhancing the experience with additional features such as onboard entertainment, a curated playlist, or even a surprise element for the groom. The Stag River Cruise Budapest provides the flexibility to create a personalized and intimate celebration tailored to your group's preferences.
As the cruise concludes, your stag party disembarks with the satisfaction of having enjoyed a unique and enchanting celebration on the water. The Stag River Cruise Budapest combines the tranquility of a river journey, the vibrant energy of Budapest's landmarks, and the joy of an intimate celebration—a truly exceptional activity for a memorable stag do. Cheers to a celebration that cruises beyond expectations!