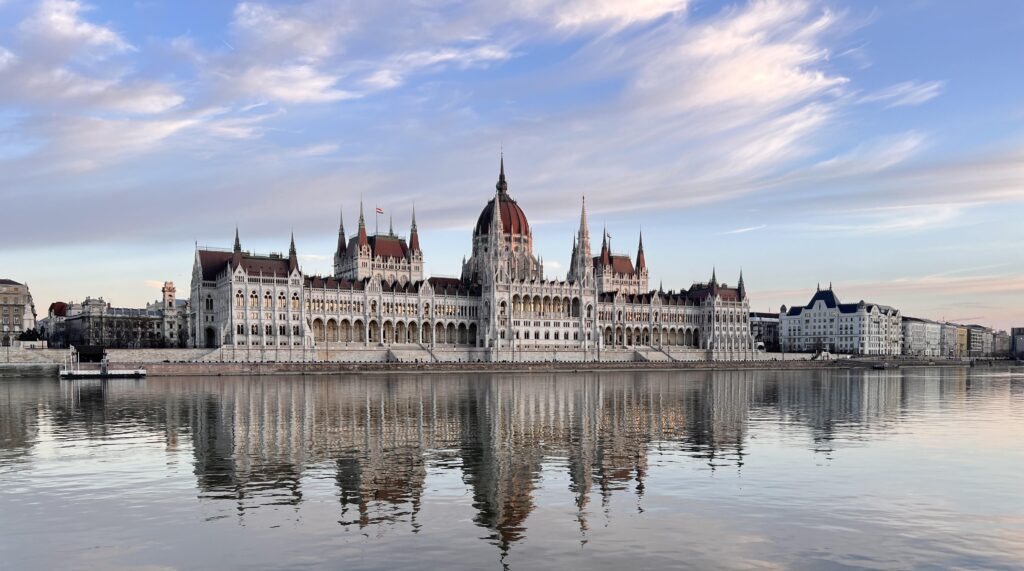 Budapest as a very popular Destination To Visit, Travel Guide, Visit Hungary
The capital of Hungary is a European metropolis that is becoming a huge tourist attraction over the years. Budapest simply has it all, from a rich cultural and historical past, incredible architectural beauty, unique and recognizable Hungarian cuisine and possibly some of the best nightlife in this part of Europe.
The city is divided by the Danube into two formerly autonomous cities, Buda and Pest. It is the most populated city in Hungary with approximately 3.3 million inhabitants. The official language spoken in Budapest is Hungarian, and the official currency is the Hungarian Forint.
The climate of Budapest is typical of Central and Eastern Europe with an oceanic climate bordering on the humid subtropical climate. Winters are cold and cloudy while summers are hot and sunny, as in most Mediterranean countries. Average temperatures are above 0°C in the coldest period and above 26°C in the hottest period. Therefore, the best time to visit Budapest is from March to November, as the winter months can be quite cold with high levels of rainfall.
If you are planning a vacation in Budapest, here is a guide that will give you all the information you need and help you organize your stay.
 How can I visit Budapest?
How to get to Budapest?
Budapest is a continental city located in Central Europe, therefore, it is very well connected to most European countries and cities by almost all means of transport.
By plane
Budapest Airport (BUD) is the airport serving the city of Budapest, also the best option if you arrive by plane. It is located 16 km southeast of the city center, and is accessible by several means of transport including the airport shuttle and the public bus. It hosts domestic and international flights, and also serves as a hub for LOT Polish Airlines, Wizz Air, Smartwings Hungary and as a target city for Ryanair.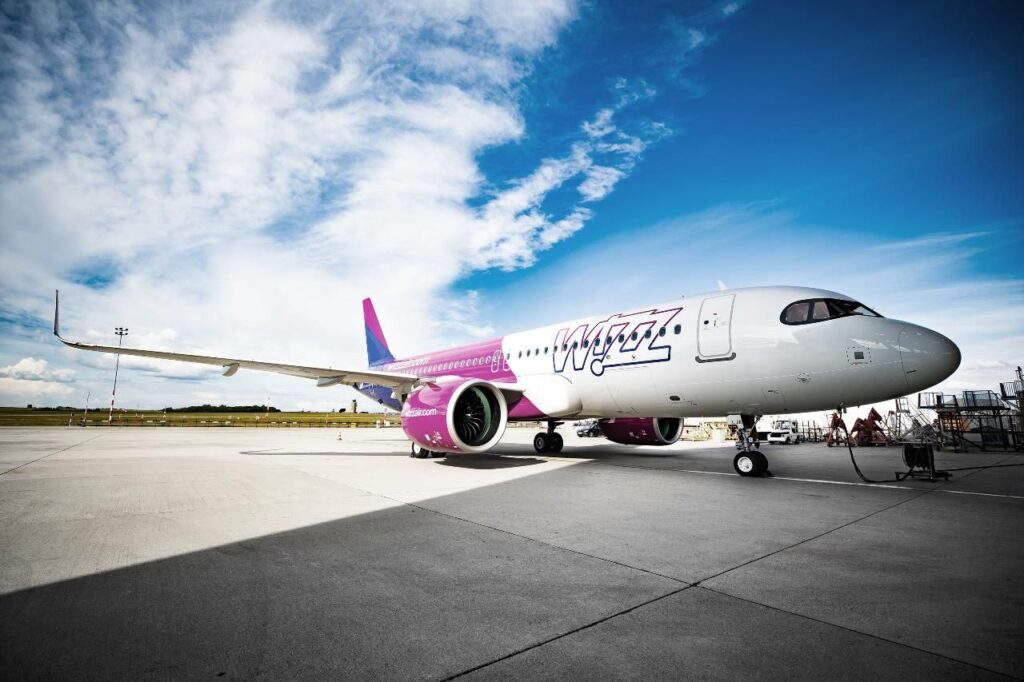 By bus
Being a Central European country, Budapest is well connected to cities like Zagreb, Ljubljana, Krakow, Vienna or Bratislava. Budapest's central bus station, Nepliget, is located about 8 km from the city center.
By train
Budapest has a good train connection with the rest of Europe and cities like Bratislava and Vienna. Keleti's main railway station is located in the eastern part of the city. The other two railway stations in the city are Nyugati to the west and Deli to the south.
By car
Getting to Budapest by car is easy from several directions. Hungary has 5 highways and 4 roads, almost all of them starting from Budapest. If you are coming from Vienna or Bratislava, you can connect to the M1 to get to Budapest. If you are coming from Zagreb and Ljubljana, take the E71 to the city. For those arriving from southeastern countries like Romania or Serbia, connect to the E75.
Parking in Budapest
Parking your car in Budapest can be difficult but not impossible. The narrow area around the Danube between the Erzsebet Bridge and the Chain Bridge is restricted to cars. The parking spaces in the other zones are divided into 3 zones. Zone 1 includes the central parts on both sides of the Danube, parking is allowed for a maximum of 3 hours. 8:00 a.m. to 8:00 p.m. on weekdays. Zone 2 includes most of Buda and the Pest area outside the Grand Boulevard. Parking is permitted for 3 hours, weekdays between 8:00 a.m. and 6:00 p.m. Zone 3 is the cheapest zone but it is also the furthest from the city center and includes all other parts of the city. Parking is also allowed for a maximum of 3 hours. on weekdays, in the period from 8:00 a.m. to 6:00 p.m.
Parking is free on weekends and at night.
You can also park your car in some of the many 24-hour garages in the center of Budapest.
Visa requirements for Hungary
Hungary is a member of the Schengen area, which means that all EU visitors can enter the country without applying for a visa. If you are a citizen of a country that is not a member of the Schengen area, you must apply for a visa regarding the purpose of your trip. If you are traveling as a tourist, you can apply for a short-term visa (Schengen visa for up to 90 days. For all other travel radiuses for non-Schengen citizens, read the requirements for visa.
Transportation in Budapest
Public transport in Budapest
Exploring downtown Budapest can be done on foot, as most of the main sights on both sides of the river are close together. Anyway, public transport in Budapest is a well-developed system consisting of buses, trolleybuses, trams, metros and boats. Here's how to get around Budapest.
Bus
Budapest residents use buses to travel a greater distance within the city. With over 200 routes, buses in Budapest cover all parts of the city and the suburbs. You can choose between regular buses and express buses which run the same route but make fewer stops along the way. In addition, there are night lines serving the main routes marked with an "E".
Tram
Trams, also known as yellow trams, have an extensive network covering all of Budapest. There are over 30 lines (1-69) operated by the Budapest Transit Center (BKK).
Trolleybuses are accessible on 13 routes, in Pest only, and they depart from number 70.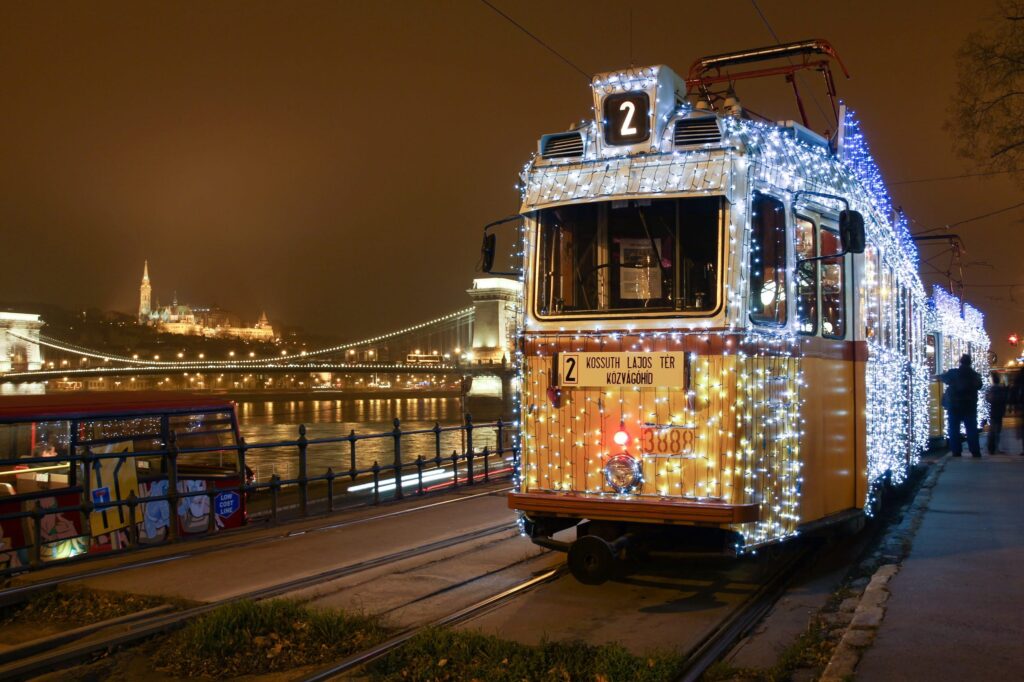 Subway
Metro in Budapest consists of 4 lines: M1, M2, M3 and M4.
M1/yellow line: Vörösmarty tér – Mexikói út.
M2/red line: Déli pályaudvar – Örs vezér tere
M3/blue line: Újpest Központ – Kőbánya-Kispest
M4/green lines: Kelenföld pályaudvar – Keleti pályaudvar
In Budapest, the train is mainly used in suburban areas in order to connect the city to the surrounding smaller settlements. The train service was called HEV.
Ship
River boats crossing the Danube are also part of the public transport system in Budapest. Four lines are offered: D2 (river crossing service), D11, D12 and D14. Boat service is least frequent in late fall and winter. See the map
Ticket system
Tickets are valid for all means of public transport. You can buy tickets at each station at ticket machines or at newsstands throughout the city. It is important that you always have a valid ticket with you because the controllers very often ask you to show your ticket. In addition, if you need to change means of public transport, you will have to buy and validate a new ticket, unless you are traveling by metro and decide to change it in the same direction without leaving the metropolitan area.
Therefore, depending on the length of your stay in Budapest, you can choose between ordinary single tickets, a travelcard or a subscription (pass).
Budapest travelcard can be valid for 24h, 72h or 7 days for an unlimited number of journeys. These types of tickets do not need to be validated. Also, the Budapest card offers you all kinds of other advantages such as discounts on tourist visits and museums, as well as several free options.
Budapest pass is a great option if you are staying in Budapest for a long time. In short, there are monthly, quarterly, and annual passes with so many options for every travel need.
Must see in the city
Popular sights in Budapest
Budapest is historically and culturally so rich that every corner offers something to see. Narrowing the list of things to see in Budapest down to must-see attractions will still take you a few days to fully explore. Here is the list of what to visit during a stay in Budapest.
Budavár Palace and the Castle hill – Exploring the Buda side of the Danube comes naturally first, as all the major sights are located together on one hill, also known as Várhegy. The most recognizable monument that rises like a crown over the Danube is Budavár Palace, a magnificent complex of Hungarian kings. Walk around the hill to see other notable buildings such as Matthias Church, Sandor Palace, the Hungarian National Gallery and the Budapest History Museum. Go underground and discover the maze under the castle. Be sure to check out these sights after dark across the river. The view is spectacular!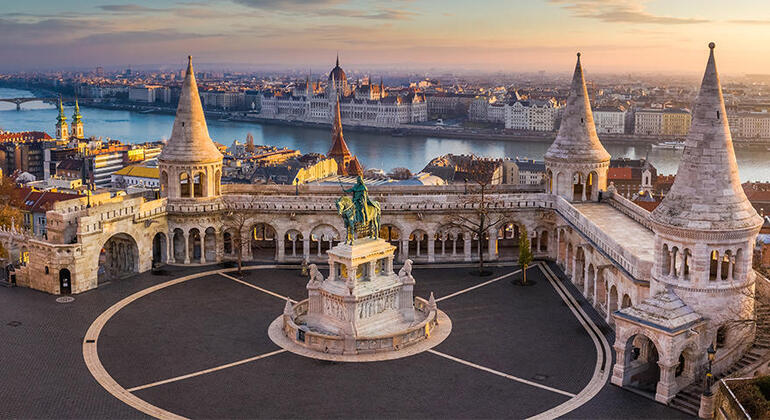 Fisherman's Bastion – Although also located on a castle hill, the Fisherman's Bastion stands out as one of Budapest's most recognizable landmarks and a huge tourist attraction. The view you see from its neo-Roman terraces is breathtaking. If you're lucky, you'll hear the street musicians playing the haunting melodies (until they're chased by the police) right next to the statue of Saint-Etienne, and have a truly unforgettable time.
Hungarian State Opera – The Hungarian State Opera is located in the middle of the city center on Andrassy Street. It is one of the most beautiful neo-renaissance buildings in Europe. If interested, book a world-class show for the ultimate cultural experience in Budapest.
St. Stephen's Basilica  – At the heart of Pest is an impressive piece of architecture with an exceptional exterior and interior. Apparently, it is one of the most photographed sites in the world. The basilica is dedicated to the first Hungarian king, Saint Stephen (Szent Istvan), the founder of the Hungarian state.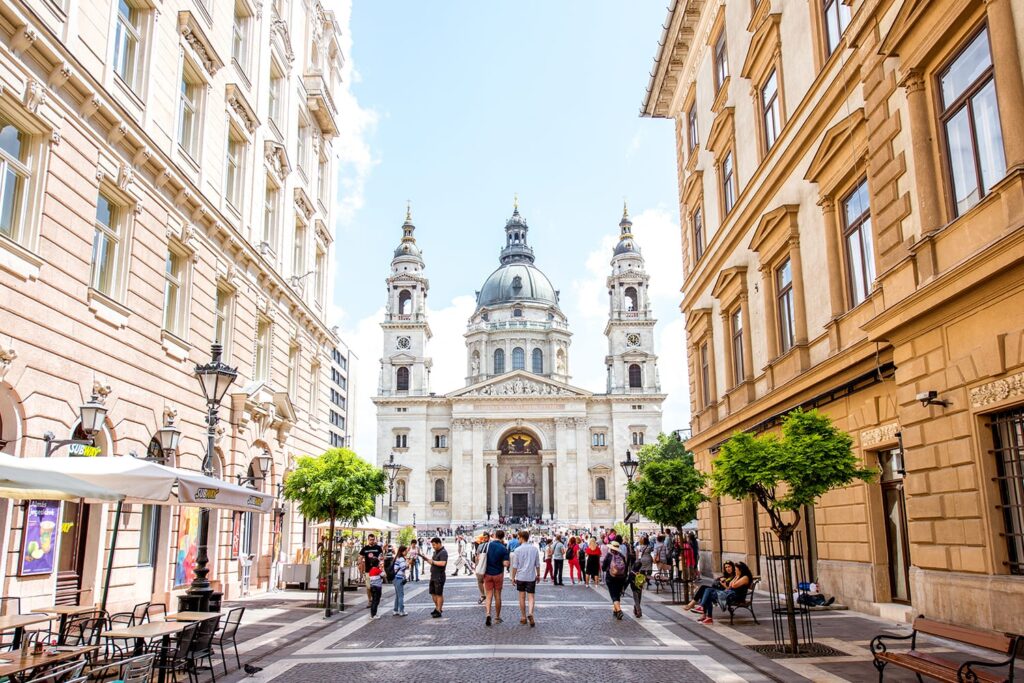 The Museum of Fine Arts – Art lovers should definitely not miss the vast Museum of Fine Arts overlooking the famous Heroes Square. The Szepmuveszeti Museum houses a collection spread over 5 floors, from the art of ancient civilizations to Baroque art. Here you can see the exhibits of ancient Egypt and works by Leonardo da Vinci, El Greco, Raphael and others.
Heroes' Square – Hősok tere, as the Hungarians call it, is one of the main and most impressive squares in Budapest which is known for its statue of seven Magyar rulers with an Archangel Gabriel at the top, as well as colonnades with statues of kings and other famous figures from Hungarian history. Moreover, the square is the central position surrounded by some of the most important places and buildings such as the Szépműveszeti Museum, Andrássy Street and the City Park.
Városliget – The City Park or the Városliget is Budapest's central park, also the city's first public park built in 1751. It starts next to Heroes' Square and consists of a beautiful green area with an artificial lake and several sights interesting sites, the most famous of which is Vajdahunyad Castle,
Margaret Island  – Right in the middle of the Danube is a beautiful green recreation area. On Margitsziget, you can find many things such as a swimming pool, water park, running track, zoo, musical fountain, open-air cinema and theater, and much more. Getting to Marguerite Island is easy on foot or by public transport, the best option of which might be a boat.
The Grand Synagogue of Budapest –The Dohany Street Synagogue is also known as the Great Synagogue of Europe. The building is built in a neo-Moorish style, which is why it looks very oriental. Along with the synagogue, visit the Hungarian Jewish Museum, a Jewish cemetery and a Holocaust memorial.
Budapest Ferris Wheel – For the best view of the whole city and all of its sights, take a ride on the Budapest Ferris Wheel. The view is spectacular during the day and at night. And it can be a good roundup of your visit to take a look at all the sights once more.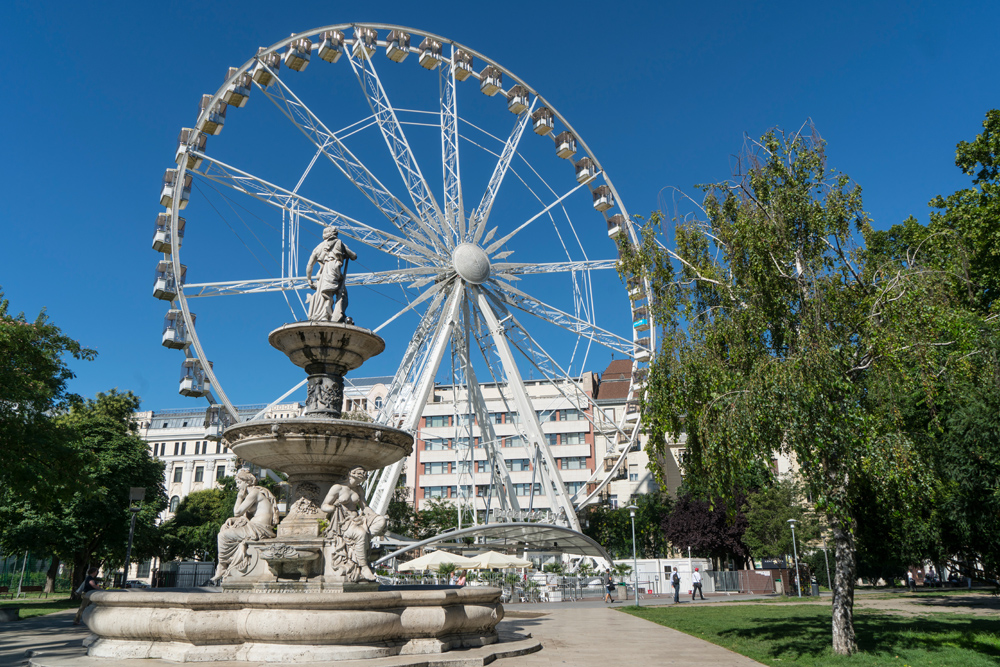 Budapest travel guide – Events and festivals
Events in Budapest
Budapest is a city with a rich cultural and artistic program, so no matter when you decide to visit Budapest, there is always something going on in the city. Here are some annual events if you happen to be in Budapest while they are happening. If you're looking for a music gig, check the schedule before you arrive, as Budapest often hosts some of the biggest names in the music industry.
Movie buffs can enjoy several Budapest film festivals throughout the year. The Budapest Independent Film Festivals celebrate independent cinema for 2 days in December showcasing a wide variety of genres. A little earlier, at the end of August and beginning of September, the Budapest Short Film Festival takes place, offering young filmmakers the opportunity to present their works. Those interested in documentary films can attend the Budapest International Documentary Festival which invites all creators to compete for the best documentary.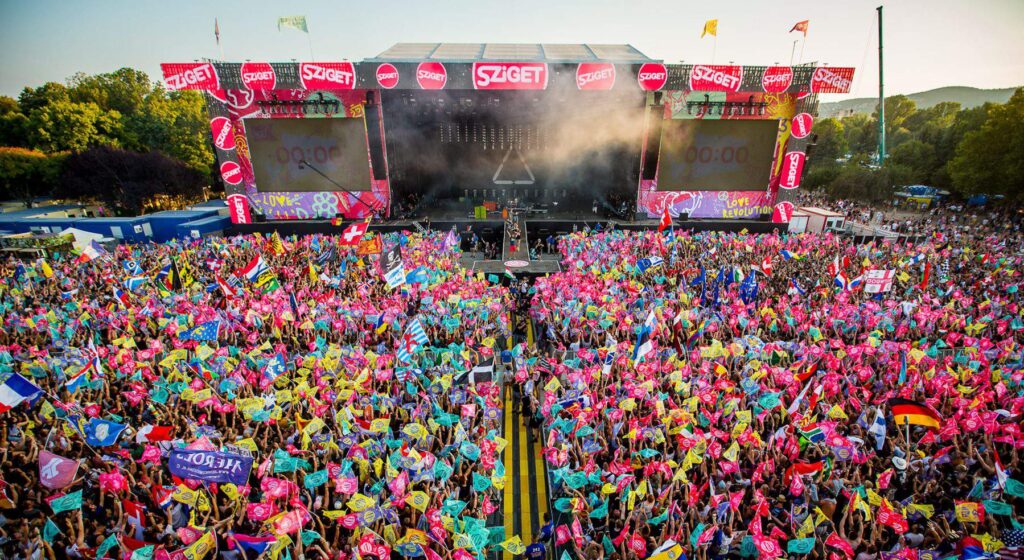 As far as music festivals are concerned, the program is packed and there is something for everyone. The Sziget Festival is one of the biggest music festivals in Hungary and features the most popular names in the music industry from all genres. The festival takes place every summer in August. One of the biggest electronic festivals is located 90 minutes from Budapest, on Lake Balaton – Balaton Sound takes place every July and offers great lineups of different electronic styles. A similar festival takes place at the same location in August but offers more psychedelic sounds – the Samsara Festival celebrates love, free spirit, unity and peace.
If you are looking for cultural events that will introduce you to Hungarian traditions and customs, Budapest has several festivals that might catch your eye. The Budapest Folk Arts Festival celebrates local folk talent through various performances and workshops, every year in August. Wine lovers have a great opportunity to try the best of Hungarian wines during the Budapest Wine Festival which takes place every September. But wine is not the only drink that Hungarians love, which is why they have created their own version of the famous beer festival – Budapest Oktoberfest. Enjoy over 100 types of national and international beer at one of Budapest's biggest celebrations, which takes place every October. We must not forget to mention one of the most attractive events held 20 km from Budapest – the Hungarian Grand Prix, a car race which is a round of the Formula 1 world championship.
If you are in Budapest during the "most wonderful time of the year", do not miss the Budapest Christmas Market. There are several locations in the city with two central locations – the Christmas Fair in Vorosmarty Square and the Christmas Market near St. Stephen's Basilica.
Shopping in Budapest
During your stay in Budapest, you will surely be looking for something authentic to take home. The perfect place to find any type of souvenir is the Central Halls. On three floors, you can find everything from paprika spices, the finest chocolates and Tokaji wine to clothes, accessories and more.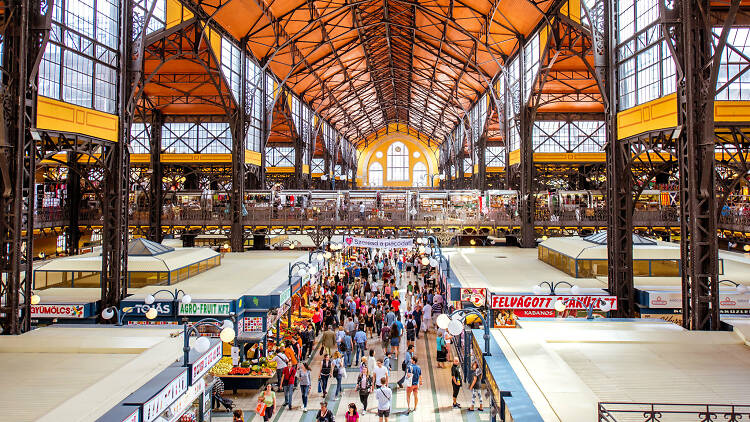 If you are looking for crowded shops, then the main shopping street is Vaci Street which starts at Vorosmarty Square. For the most glamorous brands, head to the main Andrassy Street.
For the endless number of shops in one place, head to WestEnd City Center, the largest mall in Central Europe. Along with this, there are several other malls such as Corvin Plaza or Arena Plaza.
BUDAPEST TRAVEL GUIDE