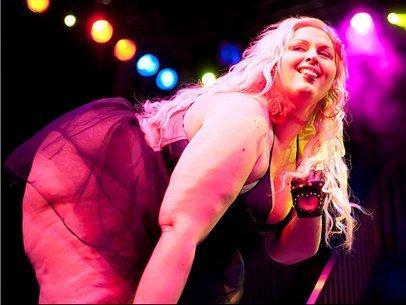 Roly poly budapest edition! One of the best and the most popular stag pranks of the city. Hire our super XXL lady A.K.A  "SNOWFLAKE" and guarantee a perfect fun for your stag team or birthday group!
★ CLICK HERE FOR OTHER ACTIVITIES ★
Roly Poly Budapest in Budapest includes:
15 minutes roly poly strip show
Avaliable on boat
Roly Poly striptease at home for your stag do in Budapest: presentation
​
Summary of activity
A great classic for a stag party in Budapest: the strip show But not just any! Surprise the future groom with a completely new stag prank. While he expects a pretty blonde from middle Europe he will see one of our charming heavyweight roly poly strippers. For 15 minutes, this luscious Hungarian with generous curves will perform a strip show for the future groom. An erotic activity that will remain etched in the memory of the lucky winner and the whole group!
How is the roly poly Budapest activity going?
​
Surprise the future groom with a stripper at the door of your home for the sexiest activity! The astonishment will certainly be the most total in front of this roly poly version stripper, but don't worry, she will take care of him perfectly (or even too well)! This charming stripper may not appear in the groom's erotic dreams, but this dancer has all the assets to give the groom and the rest of the group an incredible and unique moment. Laughter guaranteed!
Why choose this activity?
For a Budapest bachelor party, the strip tease part is essential! But to innovate and surprise the future groom, opt for an roly poly stripper. What better way to have a good time with friends for a stag do in Budapest! The question is to find the ideal moment to surprise the future groom and integrate it perfectly into the program of your weekend in Budapest. This is where the home striptease activity comes in and will meet all your expectations. The activity is great for making the future groom happy since it can be scheduled at any time of the day and will allow you to continue your activities. So there is no logistical problem.