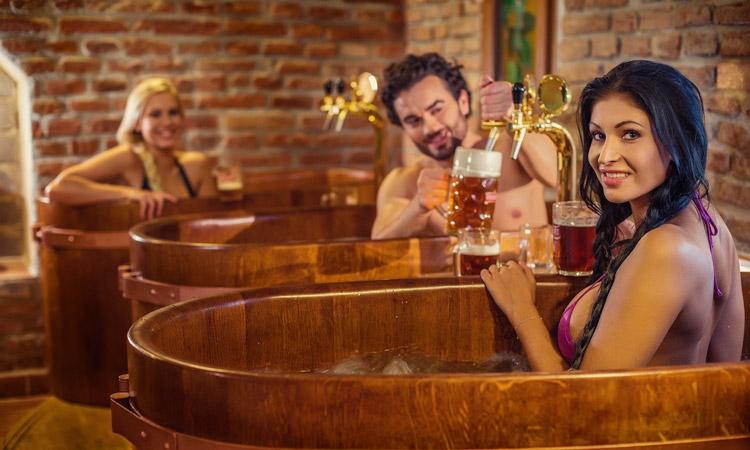 Beer spa in Budapest is one of the most exclusive stag do activity in Hungary!
Taste top quality beers and unique atmosphere in your own hot tub with your friends during your Stag do in Budapest.  Get drunk gently while relaxing and have a genuine time. After drinking enough high quality beer you'll still have time to spend in the beautiful spa.
★ CLICK HERE FOR OTHER ACTIVITIES ★
Beer Spa in Budapest includes:
Spa entry tickets
Unlimited beer consumption while having your time in the tub
Private beer tap & private tub
Tour guide for one hour
You can add private bus transfer
This week Andreas and a dental patient are going to the Széchényi Bath. The two arrived by car, but the pool is also very easy to reach by public transport, for example with the beautiful museum subway. The entrance hall alone is breathtakingly beautiful. The dome ceiling is decorated with beautiful ornaments, paintings and statues. Large semi-circular windows flood the entrance hall with lots of light. Andreas and the dental patient are also very enthusiastic about the entrance hall, which quickly arouses interest in the rest of the bathroom. In the Széchényi Bath there is both a large outdoor area and a beautiful indoor area, the latter of which has many different pools (15 in total). The temperatures in the indoor thermal pools range from a pleasant 20°C to a hot 40°C. Since the pools are very close together and it's not very crowded, you can switch pools and try them out to your heart's content. While Andreas is still explaining the interior to us, the patient can already enjoy the water.
After both were able to test all pools extensively, we finally come to our highlight: the beer bath! In the beer bath everyone sits in their own barrel, which is filled with warm thermal water. After you have sat down in the keg, an employee of the bath adds typical beer ingredients. These ingredients are good for the skin and help you relax. Since it would be a bit sad just to swim in the beer, there is a tap next to the barrel, where you can tap as much beer as you want! Hungarian snacks are also served so that you don't get drunk. So you can spend a great day in the Széchényi Bath and maybe end up enjoying the Beer Bath with its beer and snacks.